For the last decade, screen time for kids has become inevitable in modern lives. No matter how much I tried to resist it screens took over my kids too. Realizing and acknowledging that, I did everything in my power to get to know the enemy: How much screen time is too much? What are the limits and recommendations? Can it harm my kids, and what good it does? I will cover those questions for you, because, moms, we need to stick together on this one and help each other out, right?
Recommended Screen Time by Age
0 – 18-Month-Olds
This young kid should have no access to any kind of screen
18 – 24 Months-Old
A short period of educational screen time watched with a caregiver
Most babies' brain develops by the age of 2. It is important that kids this age explore the environment and experience the world around them with sight, texture under their fingertips, smell, and feel with interacting and playing.
2 – 5-Year-Olds
1 hour per day on weekdays, and mostly 2-3 hours on weekends
These young kids should limit their screen time on educational content – learning colors, letters, shapes, etc.) There are many apps provided for kids this age they will love. I remember my girl enjoying an app for learning animals in English. It was quite interesting to her as English is not our native.
6 – 17-Year-Olds
2 hours a day of recreational screen time. This means that they will need to use it more for homework and school obligations in general
Data were taken from the American Academy of Child and Adolescent Psychiatry.
RELATED ARTICLE: My toddler won't eat! What now?
How Does Too Tuch Screen Time Affect Your Child's Behaviour and Development
Behavior problems

– When exceeding limits set by age kids might have emotional, social, and attention problems.
Educational problems

: Children that are allowed too much screen time do worse in academic testing
Social problems: When there is not enough physical contact with other human beings, children may be less aware of proper social interactions and the meaning of nonverbal cues. They need to interact so they can recognize people's facial expressions, the tone in a voice, or body language which is crucial for social development.
Obsessive and addictive behavior:

seductive digital pursuits appear to activate the brain's reward system.
"Virtually all games and social media work on what's called a variable reward system, which is exactly what you get when you go to Mohegan Sun and pull a lever on a slot machine. It balances the hope that you're going to make it big with a little bit of frustration, and unlike the slot machine, a sense of skill needed to improve."

says Pediatrician Michael Rich, the associate professor of social and behavioral sciences at the Harvard T.H. Chan School of Public Health
Reduced empathy: For the reasons stated above in the social problems little babies learn from non-verbal communication, reading, smiling, and talking to them. That two-way interaction when a baby sees the reaction to its actions is important for brain development. Too much screen time reduces babies' ability to read human emotions and control their frustration leading to reduced empathy.
Obesity

: There should be a balance between screen time and green time. Kids that don't spend outdoor time or green time have a higher risk of becoming overweight.
Sleep problems

: Do try to avoid watching television or any kind of screen time an hour before bedtime to ensure a good night's sleep. The light emitted from screens has a high impact on the sleep cycle in the brain and can lead to insomnia.
Overstimulation

: Signs of overstimulation: aggressive behavior, meltdowns, defiant and oppositional behavior, can't sit still, irritability – I can recognize my 7-year-old daughter on this one, she gets quite aggressive when playing games for more than half an hour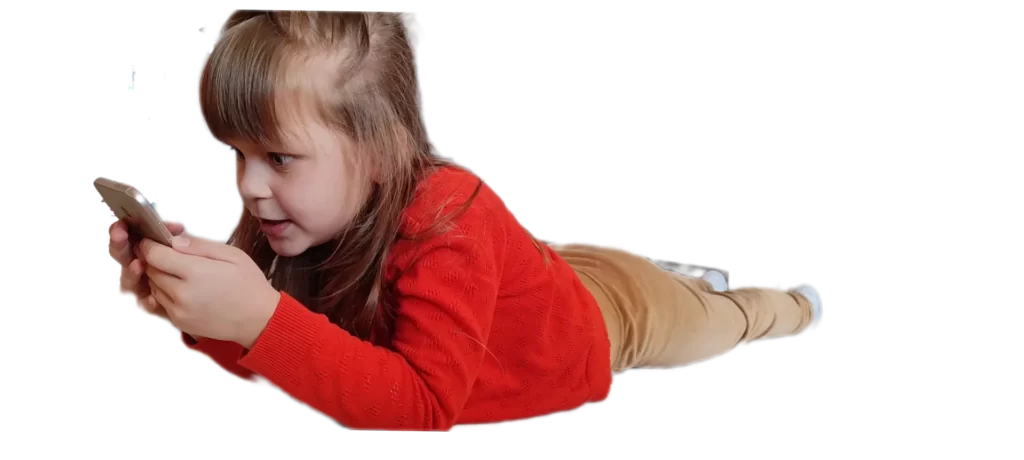 Violence

: Watching violent content on TV, or video games might encourage kids to solve problems as they see it on TV according to the American Academy of Child and Adolescent Psychiatry.
Vision problems

: Children spending too much time on screens have a higher risk of irreversible eye damage.
Physical problems: Prolonged screen time makes kids hunch while on their phones or tablets which leads to bad posture, especially to a developing spine.
Disturbed family relationships

– As children, we also must take notice of the time spent on devices. They can feel neglected and less loved by their parents leading to a greater mental development disruption.
How to Reduce Screen Time for Toddlers and Kids
1.NO SCREENS DURING MEALS AND ONE HOUR BEFORE BEDTIME: This rule is important for so many reasons. Mealtime should be family time spent together and bonding while eating and talking all together at the same table. It should be a rule you all sit together as much as you can.
3. DON'T MIND ˝I AM BORED˝STATEMENTS: Kids need some regular dose of boredom. It teaches them how to cope with frustrations and how to control their impulses. When always stimulated by screens, they never learn how to rely on themselves for entertainment. This leads to being frustrated and lowers their ability to be creative and motivated.
4. ALWAYS MONITOR THEIR ACTIVITY: Be aware of the games they download or what content are they watching. My girl always needs to ask me before downloading something and sound needs to be heard, so I can hear what she's watching or playing.
5. SET BOUNDARIES AND STICK TO THEM: When kids have limits that they are already used to, it's easier to tell them to put the phone down. That way you will avoid frustrations, meltdowns, or tantrums. Also, limits are important for all the reasons stated above.
6. ENGAGE WITH YOUR KIDS: Spend some quality time with your kids. It's important you do things together. For example, my kids love doing crafts with me. We sit at the table and draw, make stuff, write poems, or play a game.
7. ONE SPACE FOR SCREEN TIME: This can be harder for teens, but when you have younger kids they should spend screen time in one place, for example, the living room. It will lower the time on screens while in another room trying to trick you.
8. TRY TO KEEP THE CONTENT EDUCATIONAL: I know, kids these days love Tick Tok, YouTube, and watching silly videos. For example, my girls watch food pranks that are horrible to me, but I do limit them often. Download educational but fun games that will keep their attention.
9. SET AN EXAMPLE: Besides kids, we, adults also have lots of screen time. Especially when working from home. I try to do most of my work while the kids are at school
10. GREEN TIME: Spend time with kids outside as much as you can
11. READ TO YOUR KIDS: Reading is so beneficial for kids from birth. Once they can read for themselves, try to encourage them to enjoy this activity and make them fall in love with books. Real books, not e-books!
RELATED ARTICE: What is so special with stickers and toddlers?
My Interesting Experience on Screentime Kids
A year and a half ago, when my daughter was 5 years old, she made me mad about something. I impulsively reacted and said; ˝No phone for a month!˝. I instantly regretted it, because I knew I had to stick to the punishment I made, and I knew it was too harsh. I wrote no. 30 on a board and made it clear there will be no exceptions. I have to say I was stunned by her reaction and how she coped with it. We did last for 30 days, or even more (I stopped counting at 7 LOL). At that time, she never mentioned it or had any trouble having fun. Even though it was wintertime.
From that experience, I realized that she was not an addict and we are fine in this situation. But still keeping my eyes open at all times.
Whenever I see that she is overwhelmed and nervous during screen time, I just take the phone for a time-out. She herself mostly realizes that she needs a break. Sometimes she complains but forgets about it really soon.
Screen Time Alternative Ideas for Kids
Start buying them kids' magazines. Didn't you love those magazines when you were kids? Solving kids' crossword mazes, and find-the-odds tasks. Oh, it can be so exciting to do! And a great idea on how to lower screen time. I have one of those printables for free.
Invite their friends over.

I never regret inviting a friend, they spend the whole afternoon playing and I get to do a lot of things I usually can't.
Print out some worksheets

they can work on and have fun. The internet is flooded with great material for kids.
Print out coloring pages,

before coloring teach them how to cross out the lines by placing a page on a window with clean paper on top. My girls love this activity. It saves my toner, but also teaches them patience and preciseness,
Plant something with your kids

if you have a garden. Or if you don't maybe some house plant they will need to take care of.
Puzzles and board games or brain teasers
Cook and bake

with your kids. You will be amazed how they love it.
Find YouTube tutorials with simple, easy drawing video ideas and make a stunning painting. See my girls and how they enjoyed it. We made it a whole afternoon activity. Drawing something together with kids can bring so much fun! In our videos, you will find the link and steps on how to draw it yourself.
Let them put some makeup on their dolls

or even on you. I guarantee you some fun there, LOL
Make a steering wheel

out of a card box and let them decorate it.
Teach them to sew.

Or learn it together.
The Good Side of Screen Time for Kids (with some new studies)
Educational value: Kids do and can learn a lot during their online time. They also need it for school-related homework and research. Take yourself as an example: Whatever info you need, you just google it, right?
Playing video games can improve motor skills and coordination.
Socialization: Texting, and sharing opinions and information is a great way to communicate with friends and family.
Research out of Oxford, Cardiff, and Cambridge Universities finds 1 – 2 hours of screen time a day leads to higher levels of social and emotional well-being versus those who reported no screen time.
"Very few children, if any, routinely use television and device-based screens enough, on average, to show significantly lower levels of psychological functioning," said Professor Andrew Przybylski, Director of Research at the Oxford Internet Institute. "Instead these findings indicate that other aspects of digital engagement, including what is on screens and how caregivers moderate their use, are far more important."
Best Apps for Limiting and Monitoring Screen Time:
From their site: ˝FamilyTime is the ultimate parenting aide that will keep you posted on your children's whereabouts and let you manage screen time and block apps on their phones with just a tap. What's more: your kids can reach out to you instantly if they ever get into trouble with instant panic alerts. The future of smart digital parenting is now!˝
Read more about the parental screen time app – FamilyTime for kids
Price: Starts from 27$/mo
Here is what they say about their app: ˝Many families use Freedom for managing screen time, reducing distractions during online schooling and homework, and promoting digital wellness. Parents and caregivers have the option of installing the software on kids' computers to set up website and app blocks on a regular schedule or as-needed basis. We also offer browser extensions that can limit browsing to only educational websites, set time limits, or collect statistics on browsing habits.˝
Read more here at their guide and FAQ: Freedom App for limiting screen time
Price: From 2,50$/mo
˝Simple screen time management and parental monitoring tools that enable parents to have proactive discussions about digital rules and usage.˝
Read more about ScreenTime here.
Price: There is a FREE and paid version
˝FamiSafe lets parents control screen time, track real-time location and detect inappropriate content on kids' devices.˝ FamiSafe is one of the best-rated screen time kids limitation and the tracker app.
Read more about the FamiSafe app here.
Price: from 10,99$/mo
Limit and monitor Screen time app for Android:
¨Do you want to be sure that your kids and family are safe?
Check how much time spend on Wapp.
Monitor the online/offline activities of your family members.˝
Read more about WA Family Online
Price: FREE
The Bottom Line from Pros and Cons of Screen Time for Kids
Hearing the pros and cons leaves us, parents, to decide the boundaries and what is best for our child based on his behavior and progress in development. Now that you heard both sides of the story, you will know how much is too much screen time for your child. Kids obviously can't be without it and need to keep up with modern times. That is why we need to educate ourselves and make it as safe as possible.
Stay safe and remember…
WE ARE STRONGER THAN WE ALL THINK!