Have you noticed a sudden loss of appetite in your child? Don't worry, I've been in a similar situation and have gathered some important information on how long a toddler can go without eating and the reasons behind their decreased appetite.
My daughters were totally different when it comes to eating. The older one is a picky eater, while the younger one was eating everything I prepare. It was a joy watching her eat. So one day she just stopped eating.
I started to wonder how long can a child go without food and did a bit of research. So here is everything you need to know about toddlers who refuse to eat, and when to start worrying.
I also did a study based on moms' experiences on the subject, so you can find the data in this article. It will probably soothe you, and you will realize you are not alone.
Let me share these relevant facts with you.
What Causes Loss of Appetite in Toddlers?
Between 2 and 5 years of age, most toddlers lose their appetite. The main reason for this is a slower rate of growth that`s normal and appropriate for kids' age. As they need fewer calories, they seem to have a poorer appetite.
The appetite center in their brain leads them to how much food they really need. Parents forcing a child to eat more may lead to even decreased appetite in toddlers.
So, if the child looks healthy, with normal energy levels, and is growing at a regular rate, then you shouldn't worry.
Can loss of appetite mean a growth spurt?
The end of a growth spurt often triggers a drop in appetite. So, if your toddler just outgrew his trousers in a short period of time, you probably had a growth spurt, and now it is time to take it slower. That is one of the possible reasons your toddler doesn't want to eat as often.
---
RELATED ARTICLE: Best First Step Shoes for Babies and Toddlers
When to be Concerned if Toddler Won't Eat?
If a toddler starts to lose weight
Changes in behavior such as being unusually irritable, slow, or anxious
Feeling tired – lack of energy and motivation
Abdominal pain
Any kind of allergic reaction related to food
How Long Can a Toddler Go Without Eating?
So, to answer my main question, how long can a toddler go without eating? Most experts say they can go without food for three days without any consequences. That depends on the toddler's health condition at the moment of course.
Be sure to hydrate your child regularly, and watch for the signs of dehydration. This phase of refusing food is normal and quite often in toddlers.
Make sure you are not making the situation even worse. Read on to find out more…
What to do When a Toddler Refuses to Eat
DO:
Make mealtime a pleasant and enjoyable activity for the whole family
Offer small portions on a bigger plate – They will have it more likely if it doesn't seem too much for them
Offer no more than two healthy snacks at half-time between meals
Give your toddler a 10 – 15 minutes' notice before the meal. Let them prepare for what's coming
Try to have all the family at the table as often as you can. Offer your child a pleasurable social experience and the opportunity to learn by imitation.
Limit milk to less than 16 ounces a day
Try offering a choice when you can like: Would you like rice or pasta with your chicken?
Try to focus on your food while eating, not theirs. Kids love to do what their parents do, so if they see you enjoying your meal, they might as well. Maybe not on the first try, but they will.
Include them in your meal prep, let them sit by you and watch you cook, and allow them to help
RELATED ARTICLE: Best Time to Start Potty Training – Things You Didn't Know Of
DON'T:
Don't feed them, let them eat for themselves
Avoid serving foods that he strongly dislikes
Don't overstuff their plate
Don't discuss your toddler's lack of appetite in front of him. Try not to make a big deal out of it
Don't offer too many snacks between meals – they will never go really hungry that way. Go with two healthy snacks a day
Don't offer to drink anything but water
Don't force-feed your toddler – leave criticism and struggles off the table
Don't punish your kid by making him sit alone at the table
Avoid any distractions from the table such as toys or tablet
Never bribe your child into eating
Avoid insisting on table manners, and adjust those expectations by kids' age
Why my Toddler isn't Gaining Weight?
Here is a great quote from Dr. Cindy Gellner, a board-certified physician specializing in pediatrics, and she said: ˝Parents are used to their babies gaining an average of 15 pounds during the first year, and between the ages of 1 and 5, the toddler in preschool years, children only gain about four to five pounds a year. So these children can actually go three to four months without much weight gain. They're not growing as fast. They need fewer calories, and they seem to have a poor appetite. The phenomenon actually has a name. It's called physiological anorexia.˝
You should read the entire article on why toddlers refuse to eat as much.
My sources for these facts were from these reputable sites, and you can read more on the subject: National Library of Health and Legacy Pediatrics.
Research on Toddlers' Loss of Appetite
To dig deeper into toddlers WON'T EAT phase I did a bit o research and made a survey on several Facebook parenting groups. I collected data from 895 moms. Now I feel quite better knowing my toddler isn't the only one having this phase for over a month. Hope you will benefit from this research and feel calmer as I did. So here are the results:
| How Long Did Your Toddlers Loss of Appetite Phase Last? | |
| --- | --- |
| The loss of appetite phase lasted a few weeks | 45% |
| The loss of appetite phase lasted over a month | 23% |
| The loss of appetite phase lasted less than a week | 20% |
| My toddler never had this phase | 6% |
| Loss of appetite comes and goes | 6% |
Here are some interesting comments from moms I would like to share with you:
˝My doctor told me to track the food consumed over a week and then calculate the calories per day. Some days my toddler refuses to eat more than a few bites and drink juice but other days they eat non-stop so it balances out.˝
˝When my son is sick he doesn't eat a lot.. but also, he doesn't eat a ton coming OUT of a growth spurt.
Usually, my toddler not eating phase lasts 1-2 weeks but he still eats.. just not a whole lot.˝
˝Happens to my son whenever he gets a good bug, lasts pretty much until the worst is over so about a week or so, on occasion more.˝
˝My son is recovering from Covid so he really doesn't have an appetite and it's been like this for weeks. It was already a struggle getting him to eat now it's so much more difficult.˝
˝We had a traumatic event that caused my kids picky about eating. We stayed for a hurricane that destroyed our home. We live in a hotel for over a month and pretty much at pizza and fast food that entire time. When we finally got our own place again my kids wouldn't touch so many things they used to eat. That was in 2018 and we've been battling picky eating with them since.˝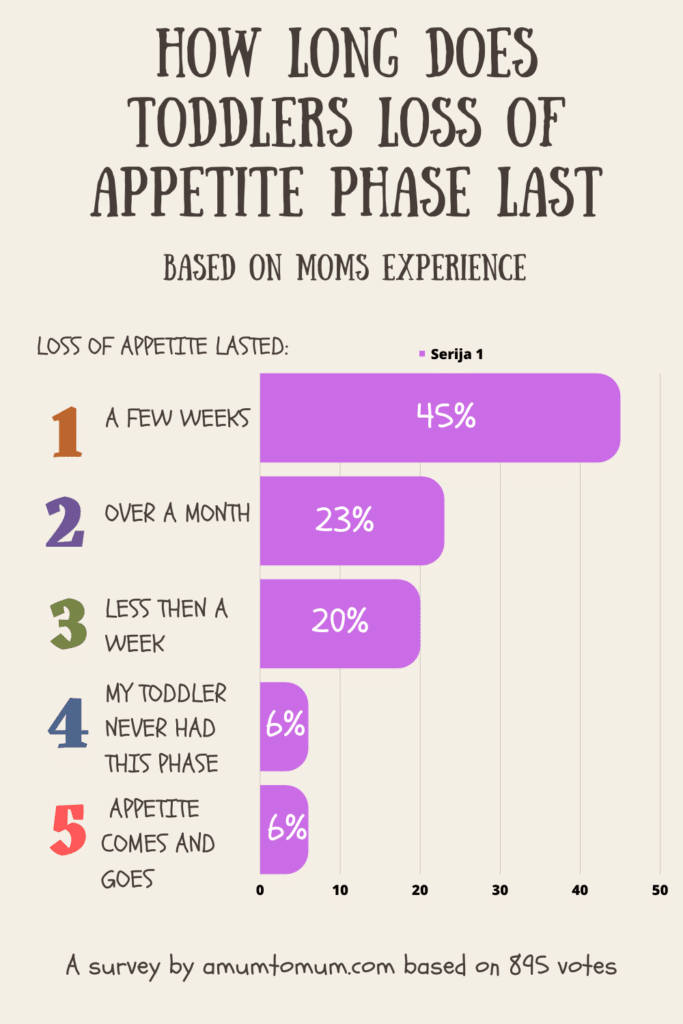 RELATED ARTICLE: Dreaded of Your Baby's First Day in Daycare? Don't be
---
Conclusion
As you can see, there are many factors that affect toddlers' loss of appetite: stressful situations, growth spurts, or just a normal reaction coming from their appetite center in the brain. We should trust our kids and let them be the boss of their feeding portions. They are doing what their body is programmed to do naturally.
Hope I clarified your question on how long can a toddler go without eating and their loss of appetite. Feel free to add your experience or knowledge you can share.
Also, to help moms with picky eaters, I have some healthy smoothie recipes I always make to sneak some veggies into everyday meal plans.
** DISCLAIMER: This post may contain affiliate links. This means I may earn a small commission if you buy something via my links. All thoughts and opinions are my own. I always support only products that I truly love and use.
A Book to Read
There is a great book – My Child Won't Eat: How to Enjoy Mealtimes without Worry by Carlos González that solves many of our questions as parents.
He explains how eating problems start and how they can be avoided and reassures parents that their only job is to provide healthy food choices: trying to force a child to eat more is a recipe for disaster and can lead to tears and tantrums and even health problems in later life.
Interesting recipes for you to make with your kids – They will eat more if they prepare food with you!
---
Want to save this article for later?
Pin it!