Most kids enjoy painting since their earliest childhood. There is something magical in that paint ending up on their face, fingers, and clothes. During years of crafting with my kids, we have quite a collection of canvas painting ideas for toddlers, kids, and adults. These ideas are quite simple to make, and the results are amazing.
I must say that these ideas are also adult-suitable. I enjoyed these projects so much!
Canvas drawing and painting for kids is a fun way (for children and adults) to express themselves creatively while learning new skills like mixing colors together or drawing lines across the page etc., so why not give it a go? You will find yourself having hours upon hours worth of fun doing this activity together with your child 🙂
You can use these creative canvas painting ideas as a gift idea for grandparents, and loved ones. A gift made by kids' hand is always precious, and great keepsake memory.
10 Best Canvas Art Ideas for Toddlers and Kids
#1 Geometric Art
This is an abstract and easy painting idea on canvas that can be very entertaining for small kids, but the older ones too.
Even grownups will enjoy it. You will need some canvas and tape to get creative.
My three-year-old enjoyed this painting activity so much. Especially the moment we took the tape off. You should have seen her!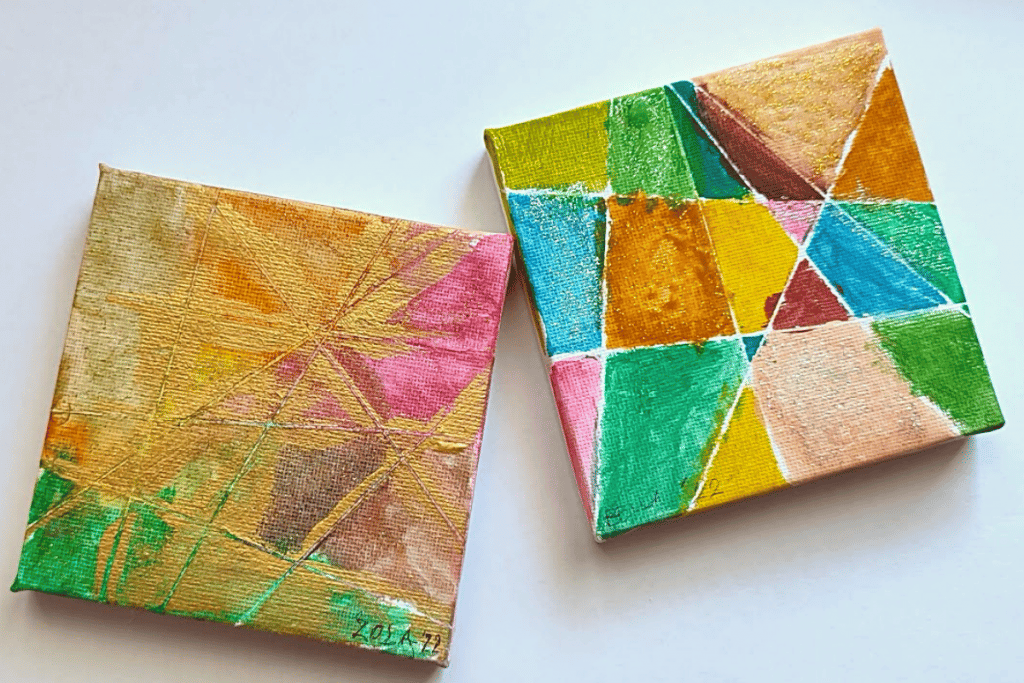 #2 Daisy Simple Painting
If you're looking for a fun and easy painting project, this tutorial on how to paint daisies for beginners by Feeling Nifty is perfect for you.
With detailed step-by-step instructions and pictures, this artwork is suitable for all skill levels and ages.
The tutorial also provides a YouTube video for those who prefer video instruction. So grab your paintbrushes and give this daisy canvas painting idea a try!
#3 Simple Nature Painting
This simple nature painting tutorial is just amazing. My 3-year-old daughter was following a tutorial from Mr. Otter Art Studio and made this nature canvas piece of art that stunned me.
You don't even need a canvas for this kid's artwork. You can use plain paper and have fun.
#4 How to Paint a Rainbow Cloudy Nightsky
Youtube is amazing when trying to find amazing artwork ideas for kids. This rainbow night sky tutorial was created by Cloe Art, and my 6-year-daughter enjoyed it!
You can also paint on plain paper if you prefer.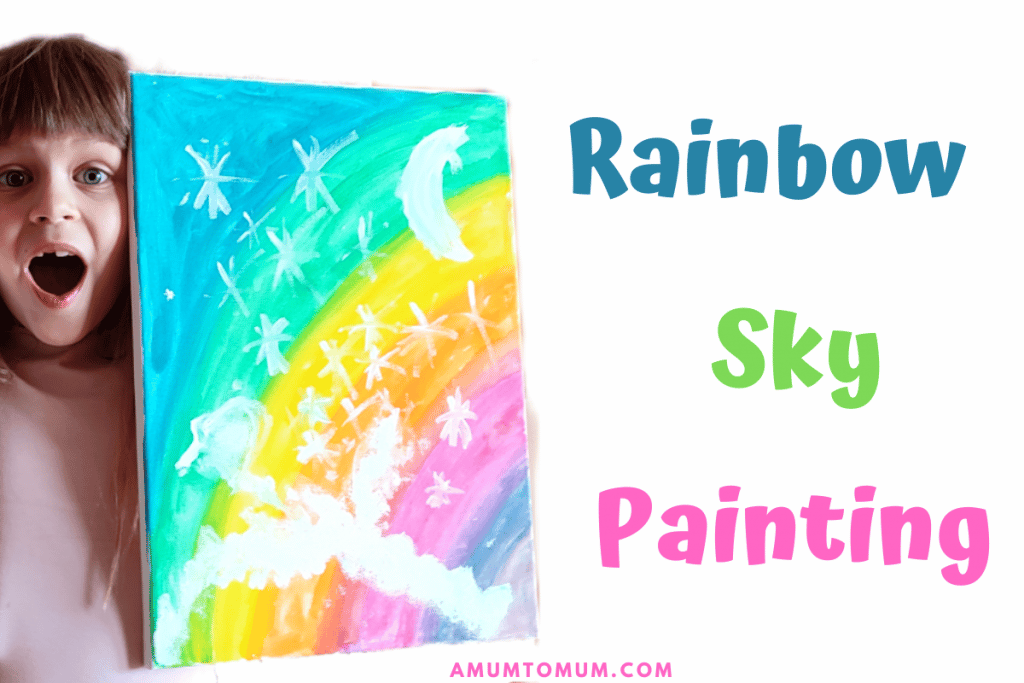 #5 Night Collage Painting
You won't believe how simple and amazing it is to make this wonderful canvas artwork by Meeru Art Box.
Kids and parents can enjoy this tutorial, and admire your work afterward.
Beginners, grab your supplies and get started!
#6 Love Birds
Crafts by Amanda presents a lovely canvas painting idea called "Love Birds on a Branch."
The author, Amanda Formaro, wanted to create a small canvas painting with love birds on a branch for Valentine's Day. She provides detailed instructions on how to paint the tree branches, birds, and hearts, and suggests adding leaves to the tree if desired.
Amanda Formaro is a crafty and entrepreneurial mother of four, known for her expertise in crafting.
#7 Canvas Whale for Kids Room
I just love this whale canvas art tutorial from The Country Chic Cottage.
Angie provides step-by-step instructions and tips for the project, making it suitable for people of all ages.
Whether you're decorating a nursery or a bathroom, this whale canvas art idea will add a nautical touch to any space.
#8 Heart Paper Doily Craft
I just love this paper doily craft from Messy Little Monster! It is a simple canvas craft suitable for all ages and a perfect Valentine's craft for kids to make as a gift.
I would never think of this, it's so creative.
Thank you, Louise!
#9 Simple Succulent Stencil Art
This succulent canvas project can easily be done by kids or adults. You don't need to have any drawing skills to make this extraordinary artwork! I believe it would be a perfect teacher appreciation gift from young kids. Thank you Sonja and Jane from Sustain My Craft Habit site for this wonderful art idea.
#10 Snowflake Canvas Ornaments
These easy snowflake canvas ornaments are a great December activity for toddlers. It is quite simple, but a very precious memory and a Christmas gift toddlers can make.
You can go creative on this one as much as you like. Even make it in rainbow colors!
#11 Footprint Penguin
This adorable animal craft with a penguin footprint is such fun winter activity for moms and toddlers. Grab some canvas and acrylic paint and make a fun memory from your kids' craft. You can paint the penguin, but kids can also make their creative version of it! I love to see their creativity grow.
Thank you, Amanda!
#12 Painting Flowers with Ear Buds
Oh, this was one of our favorite art projects when my daughter was 5 years old. We followed the simple tutorial any kid can follow with your guidance. You will need some leaves and cotton pads. The result is beyond what I expected. It was one of the gift projects we love so much!
This is how our painting turned out. Like it? Check out the original in the link below. Thank you Everyday Crafts!
#13 Twig Heart Canvas
This creative heart-shaped artwork is the perfect craft for Mother's Day, isn't it!? I love the idea of combining nature finds into kids' projects.
Finding the perfect twigs, and shaping this adorable artwork has been a fun memory to make. It's a great textured canvas idea.
Thank you Red Ted Art!
#14 Baloon Painting
This one seemed too simple to be true. But, yes, it is as simple as this one-minute video!
Let your kids make flowers in colors they like, and decorate their canvas painting ideas as they wish. Trust me, you are going to have so much fun with this balloon painting!
Thank you Padmaja from Fun and Learn Corner!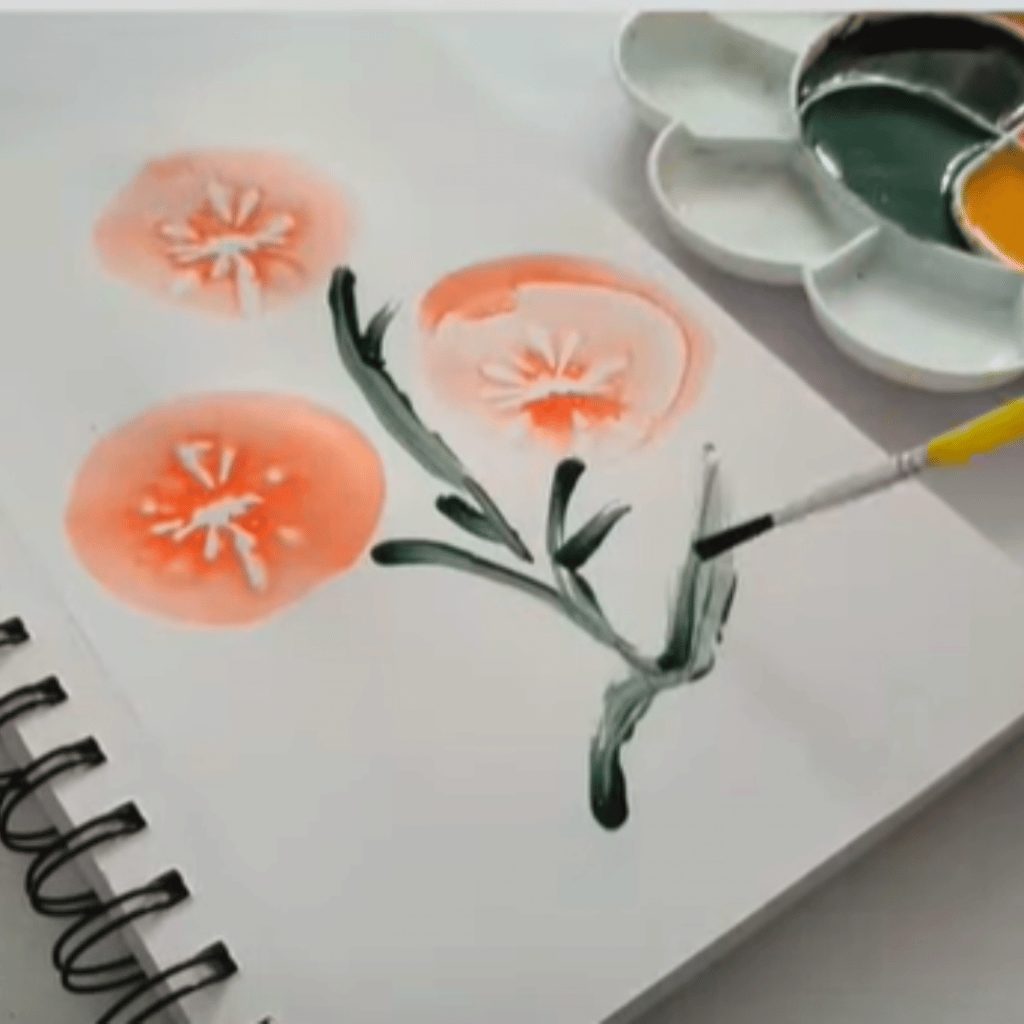 So, if you're looking for a fun, creative activity that will get the whole family involved then this is it! This post gives you lots of ideas for projects that you can do together with your child. Paint in watercolor, acrylic, or crayon on canvas.
Conclusion
In conclusion, I really tried to provide a variety of easy canvas painting ideas for kids and adults. There are step-by-step tutorials for creating geometric art, nature paintings, rainbow cloudy night sky, and more.
Hope it will serve as a helpful resource for parents seeking fun and engaging canvas painting activities for their children.
If you like these ideas, we have more projects for your kids: