The winter is coming… As you are probably spending more time at home, you search for activities on a rainy day. We all know how kids can be while spending days in the house, so I have prepared for you an easy DIY kinetic sand recipe with only two ingredients. Or maybe it is a recipe for moon sand… It depends on what you will call it.
Most of our ideas and tutorials are born by accident. We try to do one thing and end up with something totally different, even better. I am thrilled that my 6 yo daughter started to surprise me frequently with her ideas… Some mommy's genes are waking up… LOL. Before you know it she will be my partner in writing… hopefully.
That is how this DIY kinetic sand recipe was born – by accident!
Kinetic Sand DIY Recipe
Once while we were trying to make slime from some tutorial on YouTube, we got the very best DIY kinetic sand! Oh, what a playtime that was! My girls usually don't get occupied with activities if I am not actively participating. But this time, they played with it for 3 hours… It is now one of our best activities on a rainy day.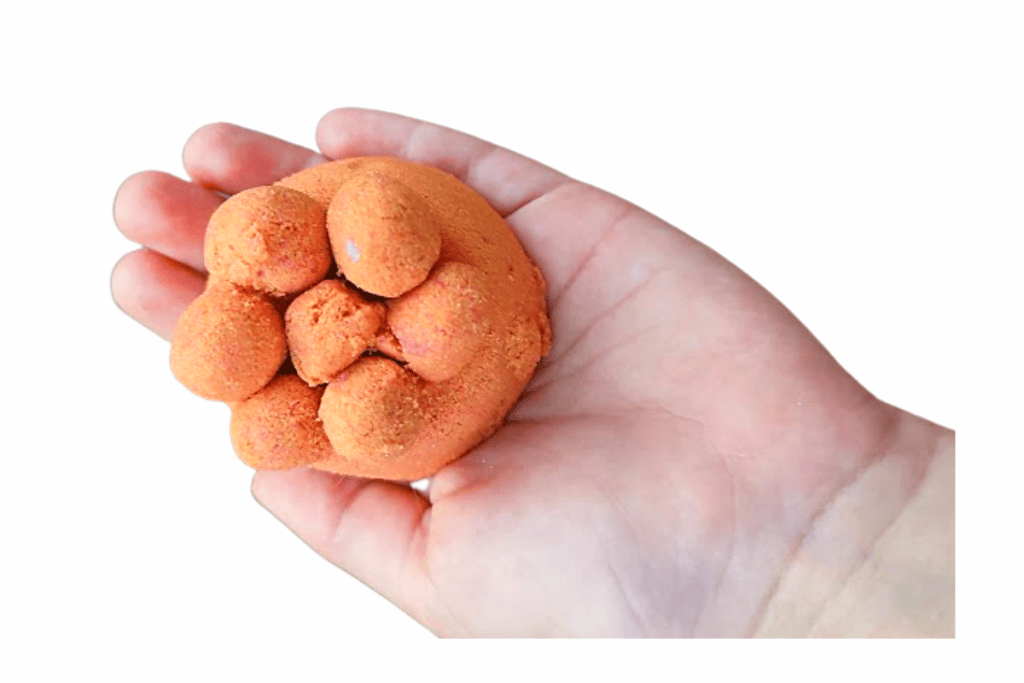 Kinetic Sand Ingredients:
Salt
Hair shampoo
Food color – optional
How to make kinetic sand:
Press 7 times hair shampoo from a dispenser – it is probably best if it is colorless if you wish to add some desired color
Add around 7 big or 14 small spoons of salt
Don't add all at once, and stir slowly. Otherwise, it will foam up and become watery. Try it with your hands to see when it is done
Place some food coloring. If you want more colors divide the kinetic sand and mix the color. Do it as your child desires. With many colors, you can even make rainbow kinetic sand!
This amount is enough for one child to play with. If you have two, just double it up.
This kinetic sand can last for days, just put it away, store it, and close and they can play with it tomorrow or the day after
You can build castles from a cup, play with different shapes, cut it, or use anything that comes in handy.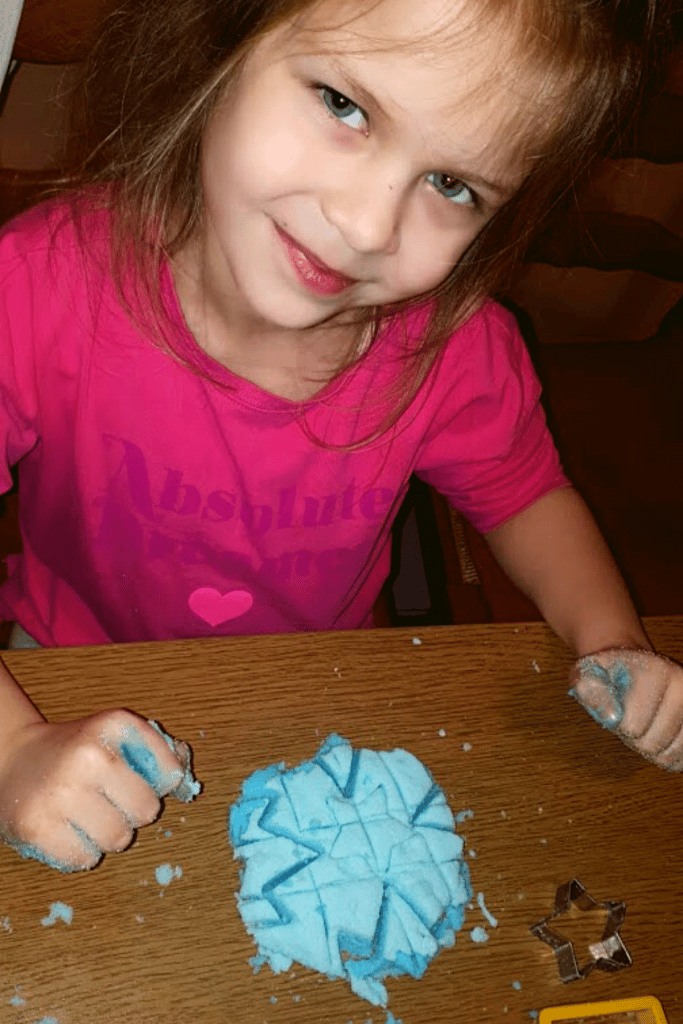 Here is a 1-minute video tutorial on how we make it:
FAQ
#1 Will kinetic sand dry out?
This homemade kinetic sand will stay in its form for days. Place it in a closed container, and it will last over a week. You could add a drop or two of oil and it will last even longer.

#2 Does kinetic sand get messy?
Oh, yes! The only downside with this kinetic sand recipe is the mess. It will be everywhere… LOL. But for hours of keeping them busy and happy, I don't mind. Prepare the vacuum cleaner for the floor, the clothes will have to be washed… and probably the hair. My 3-year-old has it everywhere, so I just take her to the tub when she is done.
#3 Is this kinetic sand toxic?
As we use organic kids' hair shampoo, it is not toxic. It all depends on what shampoo you will use, so try to use kids mild shampoos or any other organic bio shampoos
#4 Who invented kinetic sand?
Well, this one was invented by us by accident. But the first kinetic sand. The original store-bought kinetic sand is a toy trademarked and produced by Spin Master Ltd. The name was first trademarked on January 29, 2014.
** DISCLAIMER: This post may contain affiliate links. This means I may earn a small commission if you buy something via my links. All thoughts and opinions are my own. I always support only products that I truly love and use.
Besides our usual coloring pages and papercrafts, this is our best activity on a rainy day, all made from what you surely have at home.
And we are done!
Do you like our ideas?
Do you think this is more of a moon sand recipe or a recipe for kinetic sand? I am not really sure, LOL
What are your favorite activities on a rainy day?
What entertainment for kids do you have up your sleeve?
Do you gave some kinetic sand or playdough DIY recipe? Share with me… I am always searching for fresh ideas.
Keep your kids busy and let their imagination fly up the sky…
And remember
WE ARE STRONGER THAN WE ALL THINK…
Other Crafts and Activities for Your Kids