So excited to present to you my first of many ˝Kid Brain Teasers˝ – printable pdf worksheets for kids with answers at the end, but only to the hardest puzzles. There are numerous benefits of brain teasers for kids and adults. The main task of those mind puzzles is to make kids think outside the box, see the bigger picture, and find solutions from another angle.
I can clearly remember when my father introduced me to sudoku games. I was so thrilled I just couldn't get enough. Back in the day, we didn't have the possibilities that kids today have. So I had to cut them from magazines, rewrite them, and wait patiently for when my parents will buy me some magazines filled with visual brain teasers.
I try to pass this passion on to my kids. As earlier they start the more they will love it and benefit from it. My older is already on a good track. She's 7 and already loves rebus, sudoku 6 x 6, crosswords, and all brain teasers. She was the main reason I started to make Kid Brain Teasers – printable puzzles with answers. I was making so many worksheets for her, so I decided it is time to share them with the world.
Kids Brain Teasers with Answers
Free Printable Kids Magazine
---
What are the Benefits of Brain Teasers for Kids?
It's a great exercise for the brain health
Unlike reading and writing, puzzles keep kids actively engaged while coming up with a solution. Think of it as a mind-train activity. It flexes and strengthens a kid's brain – an activity that develops logical thinking outside the box.
Brain teasers improve memory and help with concentration
It has been proven that young kids who participate in brain teaser exercises on a regular basis achieve more academic performance than those who do not. It raises focus levels, develops problem-solving skills, improves short-term memory, and mental health, and reduces stress in young minds…
The challenges of brain teasers keep kids' brain functions sharp and alert. They need to see things from other perspectives to find creative solutions to a problem. Such skills can be used in other aspects of life, making up more innovative solutions, developing critical thinking skills, and better adaptive and cognitive function skills.
A study by the University of Michigan, led by dr Susanne Jaggi found that 25 minutes of brain teasers a day increases IQ by 4 points
Reduces stress and increases productivity
Brain teasers are relaxing. Yes, they are! So, when your kids study for school and you see that their focus is off-balance, try to offer them a break by solving a riddle or a puzzle. It will skyrocket their concentration and ability to learn.
Reaction time is the key to getting faster at solving a brain teaser. The mind tries various techniques and approaches to find the fastest solution. Regular activity sets your mind to perform faster and naturally.
Brain teasers help with ADHD
Puzzles and riddles can improve symptoms of ADHD, especially combined with other treatments for the condition. It's a healthy way to learn valuable skills and point their energy into improving attention and concentration.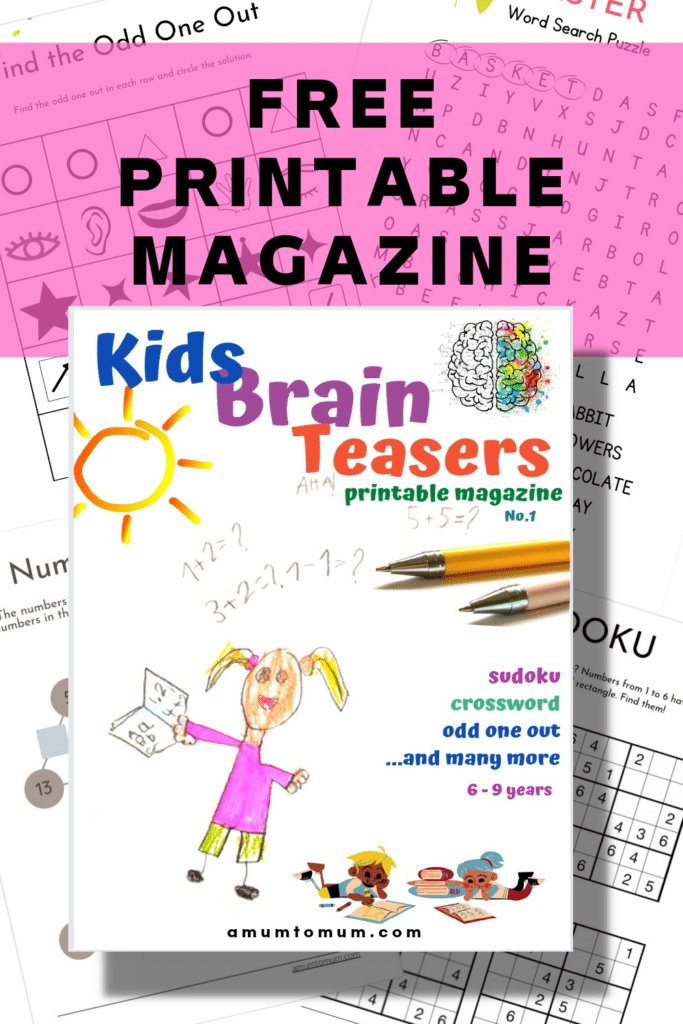 Kid Brain Teasers Examples
Crosswords
Maze
Word games, like riddles or trick questions for kids, hangman, word shake, and so on.
Rebus puzzle
Sudoku
Chess
Dot to dot
Odd one out
Jigsaw puzzles or tangram puzzles
Memory game
Trick questions for kids
And many more…
A word or two on the most complicated kid brain teasers:
Sudoku 6 x 6
There are available so many options with this game. Sudoku 6 x 6 is suitable for children aged 6 to 10 years. It contains only numbers from 1 to 6 and introduces the concept of blocks and more numbers that must be placed on the grid. They're made for kids who have no trouble finishing 4×4 Sudoku problems. These puzzles are designed to a general difficulty level, giving fresh challenges for kids who have progressed beyond the 4×4 grids. It's a mind game your kids will fall in love with and keep them off screens.
How to play sudoku games?
The rules are the same for every Sudoku puzzle game. You must fill in the missing numbers in a grid while making sure that each digit appears only once per row, column, and block.
Rebus – Definition of Rebus and Example
The definition of rebus comes from the Latin phrase non-verbis. It means – not by words, but by things. Rebus puzzle is a great mental exercise and a visual brain teaser with words. You need to find the solution by looking at the symbols and words with the clues that guide you. Rebus activates both sides of our brain, developing critical and logical skills, creativity, and language skills.
Here is an example of one simple rebus game:
Conclusion
As you can see there are numerous benefits of brain teasers for kids. They will enjoy it and train their mind while learning and having fun. The fighter inside them will only push themselves and be eager for more. Try to follow their progress and up the level every time you see they have outgrown a task.
Let your kid's brain grow up to be smart, resourceful, have a sharp brain, and be well-concentrated. Let's feed those brain cells with knowledge and creativity. Hope I encouraged you too to start a bit of brain training for yourself as well ;-).
I will make these kids pdf brain teasers with answers as often as I can and hope your kids will enjoy them.
And remember…
WE ARE STRONGER THAN WE ALL THINK!
Kids Brain Teasers with Answers
Free Printable Kids Magazine
More Interesting articles for you: