My 8-year-old daughter started to take a lot of interest in music lately. As she could have inherited the love for sounds, I was wondering what are the signs of a musically gifted child. So, as usual, I started to do some research!
Did you know that studies have shown that children who start playing musical instruments from an early age tend to perform better academically and have improved cognitive skills?
In fact, according to a study by the National Association for Music Education, students who participate in music programs score higher on standardized tests and have better language development than those who do not.
Identifying musical talent in children can be challenging, but there are certain signs that may indicate a predisposition toward music.
Pay attention to these signs so you can provide opportunities for your child to explore their potential and nurture their talents.
** DISCLAIMER: This post may contain affiliate links. This means I may earn a small commission if you buy something via my links. All thoughts and opinions are my own. I always support only products that I truly love and use.
Introduction
My father was a great musician. He played the trumpet in a local band. I can clearly remember him playing it to me and my mom.
Once I was maybe 11 or 12 I started taking piano lessons and sang in a school quire. I loved it! I could play any music I heard.
Now that I see what kind of response to music my daughter has I believe that's a sign of an inherent musical talent.
One of the most obvious signs of musical ability is:
When your child shows an early interest in music
When they start humming along to songs or tapping their feet to a rhythm at a young age
When a kid demonstrates an exceptional memory for music or has no trouble reproducing melodies on instruments such as the piano or guitar without prior training
RELATED ARTICLE: When Do Kids Start to Recognize Colors?
Identifying Musically Talented Kids
What makes someone musically gifted? Look out for signs of early interest, such as singing or dancing along to songs. Pay attention to their movements too – do they have an innate sense of rhythm and timing?
Another important factor is their ability to pick up on music in the world around them – can they identify melodies or rhythms in everyday sounds?
Keep an eye out for these indicators and you may discover a budding musician in your midst.
#1 Signs of Early Interest
When a child shows an early interest in music, they may start to hum or sing along to songs they hear on the radio or TV. This could be a sign of musical talent and potential giftedness. Try to recognize these signs and nurture your child's interest in music.
Here are some other signs that your child may have a musical gift:
They enjoy listening to different genres of music.
They have good rhythm and can keep beat easily.
They show curiosity about how instruments work and want to explore them.
They are able to remember lyrics after hearing a song only once or twice.
They create their own melodies or songs using simple rhythms or sounds.
If you notice any of these signs in your child, consider enrolling them in music lessons or providing access to musical instruments. Encouraging their natural interest can lead to the development of lifelong skills and enjoyment.
By supporting their passion for music, you may help unlock your child's full potential as a musically gifted individual.
#2 Observation of Movements
Take in the way your little one sways to the beat of a song or taps their feet, as these movements could reveal their natural inclination towards music.
A child who's musically gifted may show an early sense of rhythm and coordination through their movements.
Remember that every child is unique, so while some may show clear signs of being musically gifted at an early age, others may need more time and encouragement to cultivate their skills.
RELATED ARTICLE: Why and When Should Kids Start Journaling
#3 Listening to Music in the World
You can easily identify how much music surrounds us in our daily lives, with an estimated 93% of people listening to music regularly.
This presents the perfect opportunity to observe your child's reaction to music and see if they're musically gifted.
If you notice your child is always humming or singing along to songs on the radio, it could be a sign that they have inherent musical talent.
A child may also show an interest in exploring different types of music or instruments. You can encourage this by exposing them to various genres and letting them experiment with different instruments.
It's important not to force any particular type of music onto them but rather let them explore their own tastes and preferences. By fostering their love for music at a young age, who knows, your child may grow up to become the next musical genius!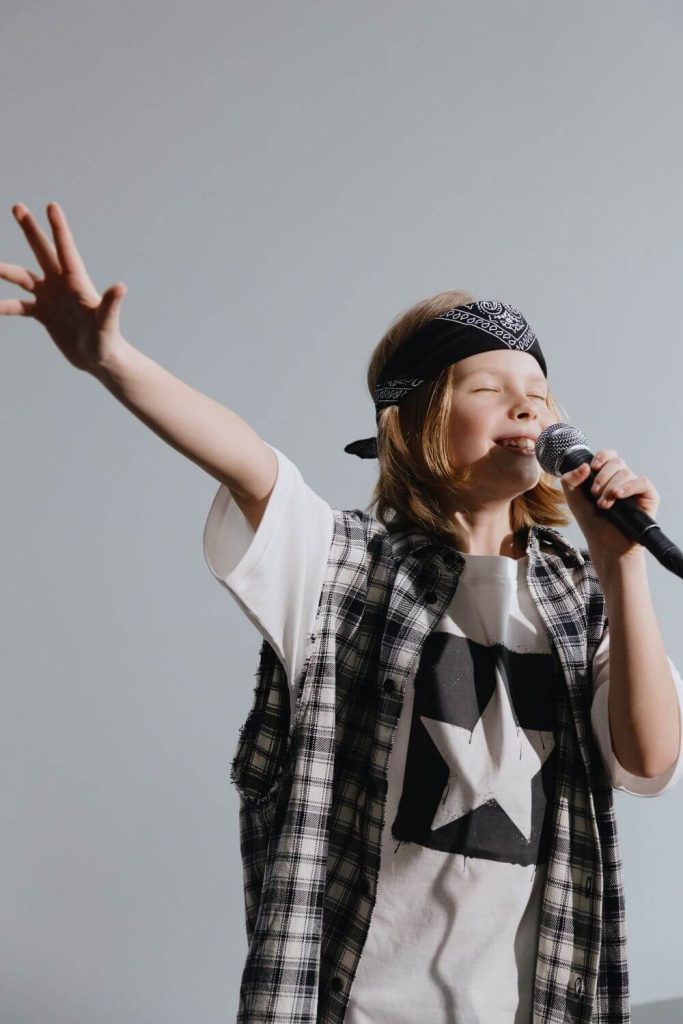 Understanding Pitch and Sound
Have you ever wondered why some people seem to have a natural ability to match pitch, while others struggle? Understanding pitch and sound is essential for anyone interested in music, whether you're a musician or simply an avid listener.
#1 Matching Pitch
Matching pitch is an important skill for any musician, and with practice, your child can identify and replicate different tones accurately.
Here are three things you can do to help your child improve their matching pitch skills:
Start by playing simple songs or melodies that your child enjoys listening to. Encourage them to sing or hum along while paying attention to the notes they hear.
Introduce them to the concept of a perfect pitch by asking them to identify specific notes played on a piano or other instrument. This will help them develop their ear for music and better understand how different pitches sound.
If you notice that your child has above-average musical talent, consider enrolling them in vocal lessons or other music classes where they can receive formal training and guidance from professionals in the field.
#2 Heightened Sensitivity to Sound
Now, let's explore another sign that your child may be musically gifted – a heightened sensitivity to sound.
You may notice that your child has a unique response to music. They may become completely absorbed in the sound and express an emotional reaction to it.
This is because musically gifted children have an aptitude for music that goes beyond just enjoying it.
They are able to pick up on nuances in sound that others may not notice, which can lead them to experiment with different sounds and create their own music.
To further understand this concept, here's a table highlighting some common traits of children with heightened sensitivity to sound:
| TRAIT | DESCRIPTION |
| --- | --- |
| Emotional response | Children with heightened sensitivity will often express intense emotions when listening to music |
| Attention to detail | They will notice subtle changes in tone and pitch that others might miss |
| Experimentation | These children will enjoy experimenting with different sounds and creating their own music |
So if you've noticed your child responding particularly strongly to certain sounds or pieces of music, it could be a sign that they have musical potential worth exploring further.
Encouraging them to explore their interest in music could lead them down a rewarding path toward discovering their true talents and passions.
Musical Instruments and the Gifted Child
Do you notice that your child has a keen interest in playing the piano or guitar? This could be a sign of their musical gift.
I must say that as I am writing this my 8-year-old daughter is trying to play my old synthesizer that my father bought me 30 years ago!
On the other hand, if they seem to recognize and appreciate the sounds of drum and bass, it might be worth exploring this avenue as well.
Perhaps your child will even surprise you by expressing an interest in playing the violin or another instrument altogether!
#1 Only Piano and Guitar Interest?
While it's impressive that your child has taken an interest in piano and guitar, let's not forget there are other musical instruments out there waiting to be explored. Expose your child to a variety of instruments so they can discover where their true passion lies.
Here are some other instruments you may want to consider introducing your child to:
String Instruments: The violin, cello, and viola are all great options for children with an ear for music. Learning these instruments can help improve hand-eye coordination and listening skills.
Wind Instruments: The clarinet, flute, and saxophone provide a unique sound that can add depth to any musical performance. Playing wind instruments also helps develop lung capacity and breath control.
It's important to remember that budgeting for those music lessons is key when encouraging your child's musical talent.
#2 Drum and Bass Recognition
If you've ever been to a live concert, you can probably recall the adrenaline-pumping beats of the drums and bass guitar that make your heart race.
For musically gifted children, this recognition goes beyond just enjoying the rhythm; they have an innate understanding of music that enables them to pick up on the finer details of a song.
Signs of a child's musical talent in drum and bass recognition include
their ability to identify instruments by sound alone or their inclination towards tapping along with different rhythms.
This could involve enrolling them in drumming or bass lessons or even encouraging them to explore different genres of music that incorporate these instruments.
By nurturing their interest in drums and bass, we can help our children reach higher musical levels and possibly even pave the way for future careers in music.
RELATED ARTICLE: Screen Time Recommendations for Kids
#3 Violin and Other Instruments
I can assure you that it's never too early to introduce your child to new musical experiences. While toy musical instruments are fun for playtime, investing in a quality instrument such as a violin can make all the difference in nurturing your child's talent.
Of course, budgeting for those music lessons and instruments can be challenging but don't hesitate to reach out for help or explore affordable options like renting an instrument.
With patience and support from you, your musically gifted child may just find their true passion in playing the violin or any other instrument they choose to explore.
Emotional and Cognitive Aspects
Memory and attention spans are key skills that can help your child excel in music.
Sensitivity and patience are also important, as they can help your child connect with the music on a deeper level.
Creativity and problem-solving skills are essential for any musician who wants to create original work or perform at a high level.
With proper guidance, your musically gifted child can develop these skills and become a successful musician.
#1 Memory and Attention Spans
Despite their young age, gifted children possess:
Impressive memory allows them to easily learn and retain complex musical pieces. They have the ability to absorb information quickly and store it in their long-term memory. This allows them to recall notes, rhythms, and melodies with ease, even after only hearing a piece of music a few times.
They also have an exceptional attention span that enables them to focus on a task without losing interest. They can spend hours practicing an instrument or listening intently during music lessons.
They're good at multitasking; they can read sheet music while playing an instrument or follow a conductor's instructions while performing in an ensemble.
#2 Sensitivity and Patience
You may not realize it, but having sensitivity and patience is crucial for developing your musical skills. A musically gifted child has got
A unique ability to pick up on the nuances of sound and rhythm that others may miss. This heightened sensitivity gives you an advantage when it comes to mastering your instrument or voice.
However, being sensitive can also make them more susceptible to frustration and impatience. Learning an instrument takes time and practice, and progress can seem slow at times.
It's important to remember that every great musician started out as a beginner and that with dedication and patience, your kid can too achieve greatness.
So embrace their sensitivity, and let them use it to their advantage.
#3 Creativity and Problem-Solving
The ability to think outside the box and come up with unique solutions is crucial in music, whether it's composing a new piece or improvising on stage.
Musical gift often comes with an innate sense of creativity that can be further nurtured through stimulation from music.
Encourage your child to experiment with different sounds and instruments, allowing them the freedom to explore their own musical interests.
As you foster this creativity, keep in mind that problem-solving also requires patience and persistence.
RELATED ARTICLE: Outdoor and Nature Play Benefits for Kids
Musical Abilities and Social Skills
Do your child's musical abilities affect their social skills?
It turns out that being musically gifted can help develop:
Leadership and perseverance traits in children.
On the flip side, these children may also have an independent nature that can lead to boredom if not properly challenged.
Let's explore these aspects further and learn how to support our musically talented children in developing well-rounded social skills.
#1 Leadership and Perseverance
With their natural talent and dedication, musically gifted kids often exhibit strong leadership skills and a remarkable ability to persevere through challenges. These traits are not only important for musical success but also for success in all aspects of life.
Signs that your child may possess strong leadership skills are:
They take charge during group performances or rehearsals. They may naturally take on the role of a conductor or lead vocalist, inspiring others to follow their lead.
Also, musically inclined kids who show a willingness to collaborate with others and actively participate in group activities demonstrate excellent teamwork skills – another key component of effective leadership.
#2 Independent Nature and Boredom
I believe this section is quite important from my personal experience!
You may find that your little musician has a strongly independent nature, which can manifest as a desire for autonomy in their musical education. They may resist being told what to play or how to practice, preferring instead to explore and experiment on their own.
While this can be frustrating for parents and teachers who want to guide the child's development, it's important to recognize that this independent streak is often a hallmark of creativity and innovation.
However, this same independence can also lead to feelings of boredom when confined to traditional musical practices. Your child may crave something new or different from what they're used to playing or hearing.
This section above reminds me of myself. I was bored in my piano classes learning the basics, while at the same time, I was playing Mozart on my synthesizer at home. It made me give up my classes, that was a shame actually. I see that today.
It's important to pay attention to these signs of restlessness, as they may indicate a need for a more challenging repertoire or opportunities for creative expression within the context of their musical education.
By nurturing your child's independent spirit while also providing them with appropriate challenges and outlets for exploration, you can help them develop into a well-rounded and fulfilled musician.
Professional Insight and Testing for Musical Talent
One way to gain insight is through musically gifted tests – these assessments can help determine a child's strengths and areas for improvement.
Musically Gifted Tests
If you're interested in determining a child's innate musical abilities, there are tests available specifically designed for this purpose.
These tests can help identify signs of a musically gifted child and provide an avenue for further development of their talents. However, it is important to note that these tests are not the only way to identify musical talent in children and should not be used as the sole basis for evaluation.
Here are some musically gifted tests that can be used to identify talented children:
The Music Lab is a research group based at Yale University that studies the psychology of music. They use online experiments to investigate how people listen to and engage with music.
They do a lot of research and have many tests, or quizzes for kids and adults. I tried it yesterday myself, and it was a great experience! My daughter scored really high!
Here are some of the examples in the image below:
They offer many studies and really interesting resources for parents.
This resource is a complete kit for assessing musical aptitude in children. It includes a series of tests and exercises designed to measure a child's ability to recognize and reproduce pitch, rhythm, melody, and other musical elements.
A kit is a valuable tool for music educators, parents, and anyone interested in understanding and developing a child's musical abilities.
Nurturing and Parenting a Musically Gifted Child or a Toddler
So you've identified your child as musically gifted, but what's next?
Nurturing their talent requires more than just recognizing it. Music lessons and consistent practice are crucial to honing their skills.
It won't always be easy, as challenges will arise along the way, but with persistence and progression, your child's musical abilities can truly flourish.
Music Lessons and Practice
Music lessons and practice are crucial for a musically gifted child to improve their skills, even though it may require discipline and dedication. Don't let the fear of commitment hold you back from giving them the opportunity to reach their full potential.
Here are some things to keep in mind when considering music lessons for your talented child:
Budgeting: Music lessons can be expensive, so it's important to plan ahead and make sure you can afford them. Look into community programs or scholarships that may be available.
Finding the right teacher: Not all teachers are created equal, so take the time to find someone who is experienced in working with musically gifted children and who can challenge your child while still being supportive.
Consistency: Regular practice is key to improvement, so make sure your child has a consistent schedule for practicing and attending lessons.
With these considerations in mind, investing in music lessons may require effort and sacrifice on both your parts, but the rewards of seeing your child develop their talents will be more than worth it.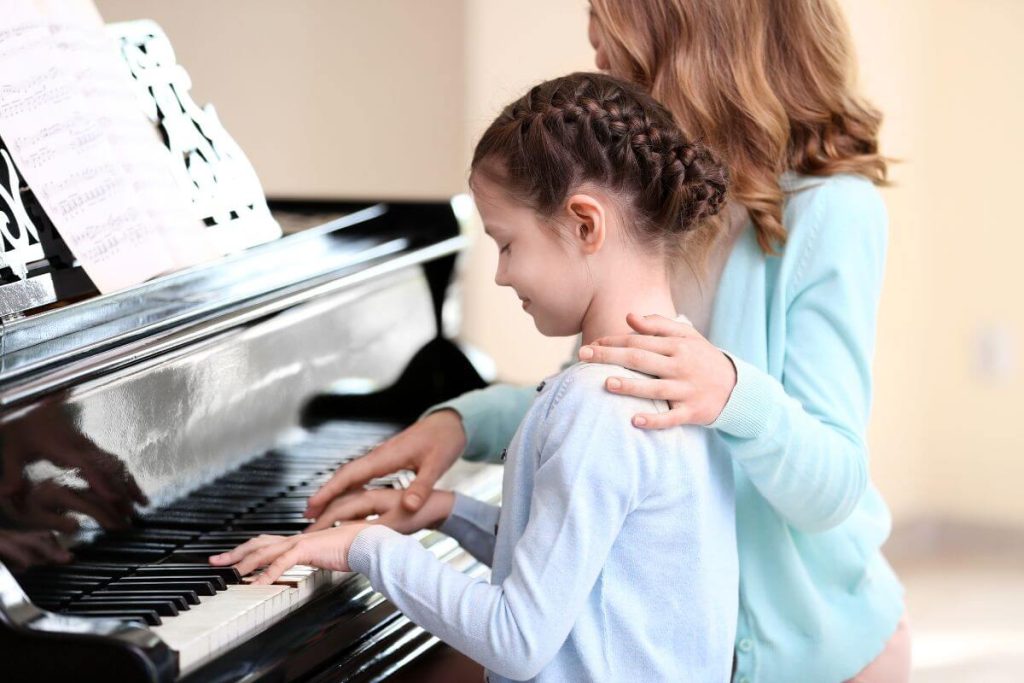 Challenges and Progression
You may encounter various obstacles and opportunities for growth in your kids' musical journey.
One of the challenges that you may face is ensuring that they are constantly challenged and stimulated by their music education. This can be done by finding a teacher who understands their level of talent and can provide them with more advanced material to work on.
Another challenge that you may encounter is helping your child balance their musical pursuits with other aspects of their life, such as schoolwork or extra-curricular activities. It's important to encourage them to continue pursuing music while also emphasizing the importance of a well-rounded education. With dedication and support, your talented young musician will continue to progress and thrive in their musical journey.
| Challenges | Progression |
| --- | --- |
| Finding advanced material | Continual improvement |
| Balancing other aspects of life | Building on existing skills |
| Encouraging well-rounded education | Developing new skills |
Conclusion
You've learned about the signs of a musically gifted child in this section, and now you can confidently identify these traits in your own child. It's exciting to see your child expressing their musical talent at such a young age, but it's important to remember that talent needs nurturing.
As you continue to support and encourage your child, keep in mind that progress doesn't always come easily or quickly. Be patient with them as they learn new skills and techniques. Here are some tips to help you support your child:
Provide them with opportunities to perform for others.
Encourage them to explore different instruments and genres.
Find a music teacher who understands their unique talents and can challenge them appropriately.
Don't put too much pressure on them – let them enjoy the process of learning and experimenting.
Remember, children of all ages can be musically gifted. Whether your child is just starting out or has been playing for years, there is always room for growth and improvement. With patience, encouragement, and the right resources, you can help your talented little musician reach their full potential.
Frequently Asked Questions
How do I know if my child is musically gifted?
You'll see your child's musical talent shine through if they pick up an instrument like a fish to water. They may hum tunes or create their own melodies. Encourage them to explore music!
What are some common traits of musically gifted children?
Look for a natural sense of rhythm, an ear for pitch and melody, a love for music, and a willingness to practice. These signs may indicate musical talent.
Are prodigies born or made?
According to numerous experts, prodigies are developed through a combination of a person's genetic inheritance and the environment in which they are raised.
As psychologist Jonathan Wai said, it is increasingly clear that "Experts are born, then made."
Will my child's musical abilities fade over time if they don't continue to practice?
If your child stops practicing, their musical abilities may not fade completely, but they may lose some proficiency. Consistent practice is important for continuing to develop and improve skills. Encourage them to keep playing!
How can I support and encourage my musically gifted child without pushing them too hard?
You want to support your musically gifted child, but not push too hard. Encourage practice without pressure. Attend concerts and shows, offer feedback, and celebrate achievements. Foster a love for music and let them lead their own journey.
Conclusion
So, you've identified that your child has a musical gift. Congratulations! Now it's time to nurture and support them as they develop their talents.