Are you searching for an easy recipe for quick bread, or how to make a simple loaf, but you don't have any experience, you are in the right place. I am no expert, and I make this easy Italian bread recipe for years. My kids love it, and it pleases me to provide them with a healthier version of bread than store-bought ones. Not to mention the smell and the taste of crusty homemade bread. You all know how that tastes, right?!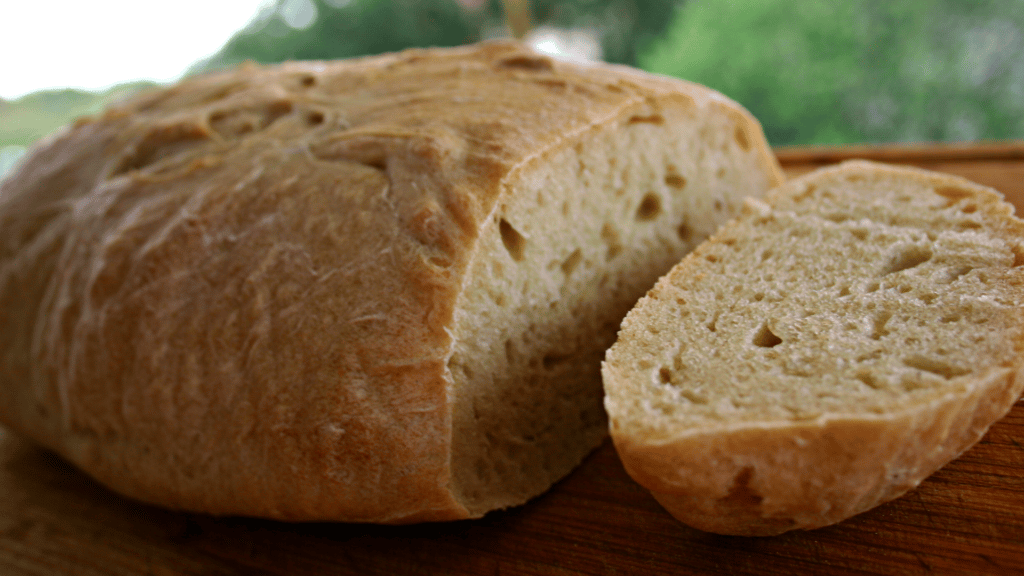 Baking your own bread at home does take some time, but you can control the ingredients and definitely have healthier bread for your family. I googled easy bread recipes for beginners so many times I lost track. Until I found my golden, perfect no-knead ciabatta recipe. It is so simple even the kids can make them. Mine love to make It with me, and we always take a piece of dough to make some playdough, lol.
Homemade Bread VS Store-Bought Ones
The smell of home-baked bread is better than any oils in your diffuser, trust me
You are in full control over what goes in your bread. Is it white all-purpose flour, wholegrain, or any other, it is still a healthier version
Store-bought bread has many preservatives and artificial ingredients to extend its shelf life and boost its flavor.
Homemade bread does not contain trans fats if you use olive or safflower oil.
Your baked bread at home has lower sodium – bought ones often contain over 130mg per slice.
Homemade bread is way better for kids with allergies, as my daughter does.
Homemade bread is 100% vegan
**Disclosure: This page contains affiliate links. If you choose to purchase after clicking a link, I may receive a commission at no extra cost to you.
So here is my recipe for quick bread for busy moms that don't have much time or skills to knead bread properly.
Ingredients
3½ cups / 500g of flour of your choice
Tbl spoon of salt
½ tbl spoon of sugar
1 tbl spoon of instant yeast
1 spoon olive oil
1¾ / 420 ml of lukewarm water
Instructions
Combine all ingredients and firmly mix for about a minute to combine.
Cover and let it double up in size.
Shape
Bake for 35 – 40 minutes at 355°F or 185°C
Enjoy your homemade simply made bread
How to Shape Ciabatta Bread?
Well, I came up with a perfect way to shape this lovely Italian bread. You can see my method here in this short Youtube video, and I am sure you are all up to this task. It turns out amazing every time.
No Knead Bread Variations
You can bake it in a square pan to make easy sandwich bread
You can use any flour you want, and make it as healthy as you wish. In this recipe, I made white bread, but I often place half wholegrain and half white flour
To make it gluten-free use rice or plantain flour
Use a bread machine for a better result. It rises more, but the taste is very similar
You can use a dough mixer for a better result. It will rise better, but you don't have to worry, the one made without kneading as I described will be perfect
So this is a simple bread recipe perfect for busy moms who want to provide their kids with a healthy meal and be sure what their kids are eating. My family loves it!
Useful Tips & Storage
If you want a nice crusty bread, just let it cool out before storing
But if you want a softer crust on your bread for kid's sake, wrap it up in a cloth immediately when you take it out of the oven
If you want to freeze it, cut it into slices before freezing it. It is hard to cut unfrozen bread, so make your life easier, and do this ahead
If placing it in a plastic bag, be sure that it is totally cooled off. If water droplets appear inside the bag it means it was still hot, and it can lead to mold.
More simple recipes for busy moms:
Pin
Ingredients
3½ cups / 500g of flour of your choice
Tbl spoon of salt
½ tbl spoon of sugar
1 tbl spoon of instant yeast
1 spoon olive oil
1¾ / 420 ml of lukewarm water
Instructions
Combine all ingredients and firmly mix for about a minute to combine.
Cover and let it double up in size.
Shape
Bake for 35 - 40 minutes at 355°F or 185°C
Enjoy your homemade simply made bread
NUTRITION
Serving: 1 serving | Calories: 353 | Fat: 5,6 g | Saturated Fat: 0,8 g | Cholesterol: 0 mg | Sodium: 3 mh | Total Carbohydrate: 65,4 g | Fiber: 2,7 g | Total sugars: 0,6 g | Protein: 9,4 g | Calcium: 14 mg | Iron: 4 mg | Potassium: 129 mg

Did You Like This Recipe?

Please leave a star rating and comment below. Follow

@AMumtoMum