There is nothing more precious than easy Christmas Homemade Gifts, especially when it is made by kids, right?! I have gathered some of the simplest, yet very practical ideas for a homemade gift. Creative kids will love these projects, and gifts that can be used for any occasion. So let's dive into it!
** DISCLAIMER: This post may contain affiliate links. This means I may earn a small commission if you buy something via my links. All thoughts and opinions are my own. I always support only products that I truly love and use.
---
#1 Hot Chocolate Spoons
These chocolate spoons are a great food craft for kids and an excellent way for them to get creative, so feel free to let your kids help you out with this recipe. Once you wrap it in cellophane plastic and tie a handle with a bow or string, it will become a perfect homemade food gift!
---
---
#2 Useful Gifts from Clay
Here you will find many useful gifts from clay that kids or adults can make. Make a lovely candle holder, a key pot, a lipgloss holder, or some unique Christmas ornaments. All followed by a video tutorial
---
---
#3 Personalized I Love You, Mom Card
Print out the templates and make a Mother's day personalized gift! There are templates for a mom and a grandma. My kids were thrilled with this project. It can be used for any occasion, or just to say I love you card.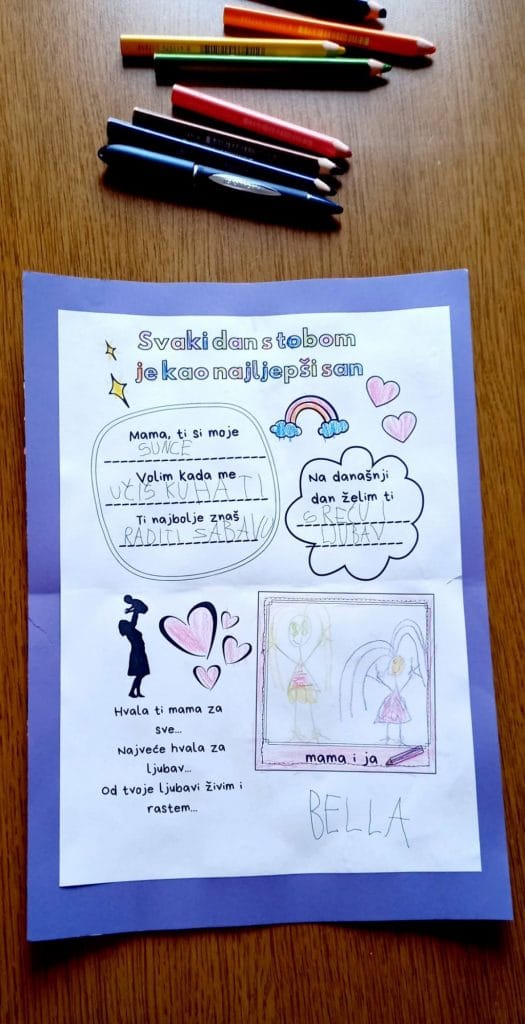 ---
---
#4 A Pocket Hug
Pocket hugs have become very popular lately. It is just a thoughtful reminder to let someone know you think of them and love them. It is a great homemade gift idea everyone will treasure. It can be tucked into your pocket as a constant reminder that someone loves you. Isn't that a lovely idea?!
---
---
#5 Fingerprint Flower Pot
This sweet fingerprint flower pot can be made with supplies you probably have at home. This kid's project will easily engage kids from 3-10 years old with many creative steps and makes it a lovely mom gift from kids!
---
---
#6 DIY Melted Crayon Art
We all have many broken small pieces of crayons, right!? This amazing artwork only requires a handful of craft supplies you likely already have at home. It's a fairly quick process, an easy crafting experience to customize for any age, and creates the most striking pieces of kid-made abstract art. A creative homemade gift of art!
---
---
#7 Personalized I Love You, Dad Card
My kid's dad was amazed by this personalized gift for Father's Day! It comes with free printable templates and a video tutorial. Kids place a lot of effort to make it perfect. A creative project for little ones!
---
---
# 8 DIY Hula Hoop Rug
This beautiful kids' project needs a bit of patience and time. But it is so unique and beautiful we had to try it! This will be a great wall or table decoration gift from kids!
---
---
#9 Shrinky Dinks Keyring
Make memorable kids drawing keyring. This idea really blew my mind. I would never think of that. Thank you, Louise, for this personalized gift for family members, we love it!
---
---
#10 Pressed Flowers Bookmark Craft
This flower bookmark craft for kids is so easy to make and is perfect for a wide range of ages. Kids will enjoy the process of pressing flowers and leaves and then using natural materials to create all kinds of designs for their homemade bookmarks! It will be a perfect gift idea for Aunty who loves to read!
---
---
#11 Rock Photo Holder
This idea really blew my mind. A rock photo holder is a great kids' craft, so simple, but very useful and looks amazing! This would make a very joyful DIY gift!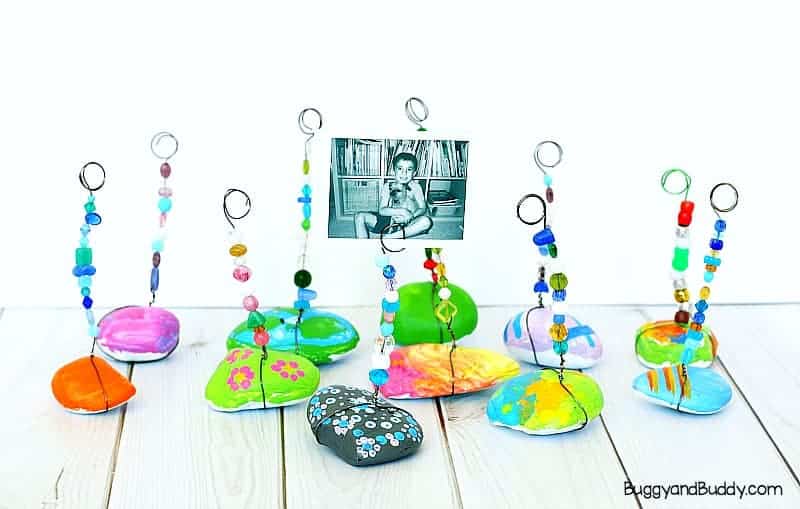 ---
---
#12 Perler Bead Bowl
These lovely Perler bead bowls are a craft for kids that is easy and mess-free. If you are looking for a fun activity that yields a useful product, I think you will love making these bowls with your children. I believe those will be some useful gift ideas kids can make.
---
---
#13 Easy Rainbow No Sew Fleece Scarf
Here is an easy but precious grandma or mom gift idea from kids this Christmas. You only need fleece and scissors – no sewing required! Maybe your kids can make it for their bestie from school or kindergarten. I really love this project for creative kids!
---
---
#14 Footprint Ornament
A footprint ornament – I love this idea! It would remind us every Christmas of how small our baby was, and how much the kids grow up. I believe this thoughtful gift would be very much welcome in every family member's home.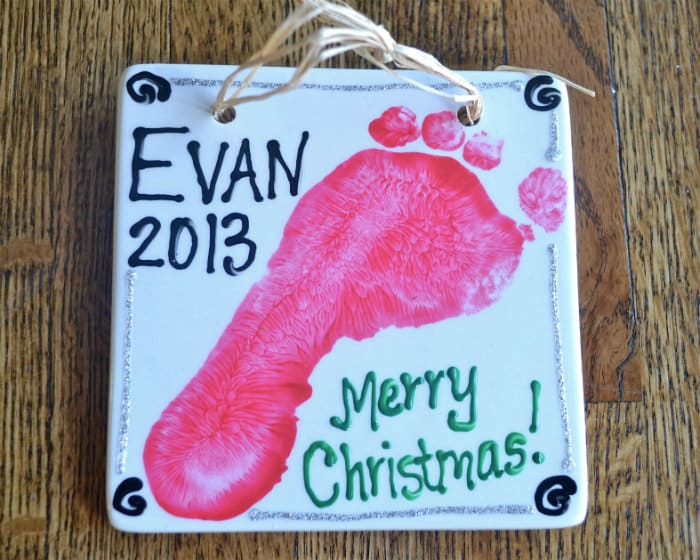 ---
---
#15 Painted Wooden Bead Necklace
Kids love making jewelry, and getting their hands a bit dirty, right?! With some simple equipment, they could make this fashionable homemade gift for teachers or friends.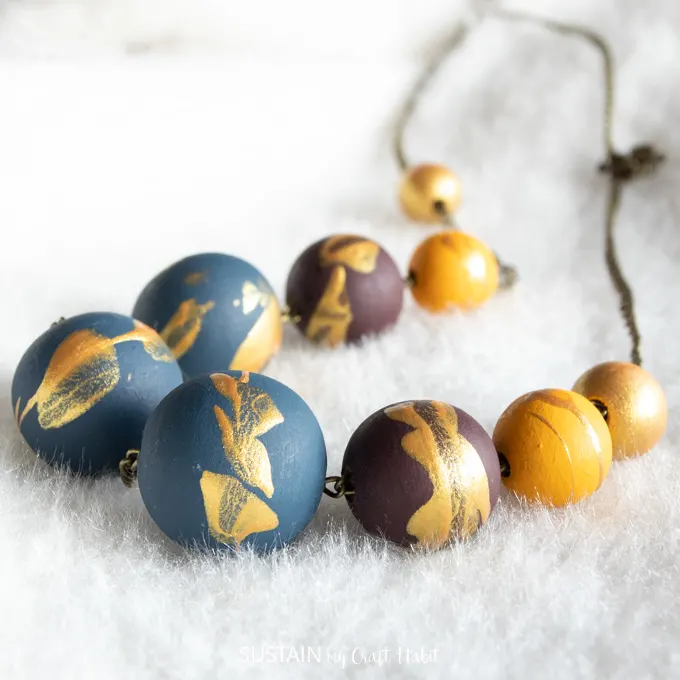 ---
Did you know that kids who make gifts grow up to be more generous people?! Yes, they do. So teach them the joy of gifting and have fun!
Doing this research I found so many creative moms making these fun projects for kids. Hope you will find them useful and get messy with your kids.