All parents with creative kids so eager to make things with their own hands constantly search for best crafting blogs out there. As I have kids like that I constantly search for new crafting websites with innovative DIY ideas.
Our favorite one is The Craft Train! It has the best tutorials that my kids can follow, simple to make, but also amazing and so full of imagination. Recently I wanted to know who is behind this crafting blog, and that is how I met Kate Grono.
** DISCLAIMER: This post may contain affiliate links. This means I may earn a small commission if you buy something via my links. All thoughts and opinions are my own. I always support only products that I truly love and use.
Who is Kate Grono?
She is a mother of two wonderful girls, born and living in Australia. A lady that never stopped being a child and her brilliant mind and imagination doesn't seem to have an end. As a child, she used to spend a large portion of her time making things. She recycled every piece she could use and repurposed it.
Kate is a graphic designer and loves her job. But as she had two girls the crafter inside of her woke up again. She realized that crafting makes her happy and she started her crafting blog almost nine years ago. Over time her hobby grew and has become a very famous crafting website with over 300.000 followers on Instagram, Facebook, and Pinterest. Kids just love her ideas and she really puts her soul into it.
The first time I contacted her was to show her how my girls made her frogs. I was surprised by her quick response and kindness. She proudly shared our photos and crafts on social media. At first, I thought there was an army behind her work and who knows who answered me. Eventually, I found out she is a one-lady band and that's what thrilled me the most. I know what kind of effort takes when handling a website alone. It is hours and hours of hard work.
That`s why Kate Grono is my hero, role model, and idol of a modern working mom.
To speak less… Here is what she had to say in my interview that she agreed to in a second.
Meet the lady behind the Craft Train – the best crafting blog for creative kids
How did this wonderful career of yours begin? How and when did it all start?
When I was I kid I loved art and craft SO MUCH that I spent most of my spare time drawing and making stuff. This is where my motivation comes from. I worked as a graphic designer and art director in the creative industry before kids, but designing ads is nowhere near as much fun as making cool stuff from paper and recyclables.

When I had kids of my own I couldn't wait for them to be old enough to do crafting too (mostly so I could get crafting again with them myself). I was one of those Mums who put art supplies in front of them while they were still strapped in a high chair. They were just toddlers and didn't have the fine motor skills to do anything, and for the most part, made a huge mess, drank the dirty paint water, and trashed my kitchen table with glitter glue. It got so badly stained we had to throw it away.
When they were preschoolers, I came across a craft blog one day and thought 'I could do that too'. So I did, and I haven't looked back.
2. At what moment did you realize that you could make this a career, not just for fun?
If I didn't find it fun, I couldn't have persevered with growing my blog and making no income from it for years, but I always had the plan (which at times felt like more of a fragile hope) to have my blog make a full-time income. Specifically, I wanted a full-time income from part-time work so I could stay at home with my kids. I always knew it could be done because it had been done by others before me. I kept going and eventually got there.
3. How old are your daughters now, and do they share your passion for crafting? I do believe they are creative kids and proud of their mom.
They are big girls now, aged 11 and 13. They have their own interests and personalities; my oldest loves reading and gaming and is not much interested in crafts anymore. My youngest is more like me, she loves to draw and make things and has lots of cool ideas.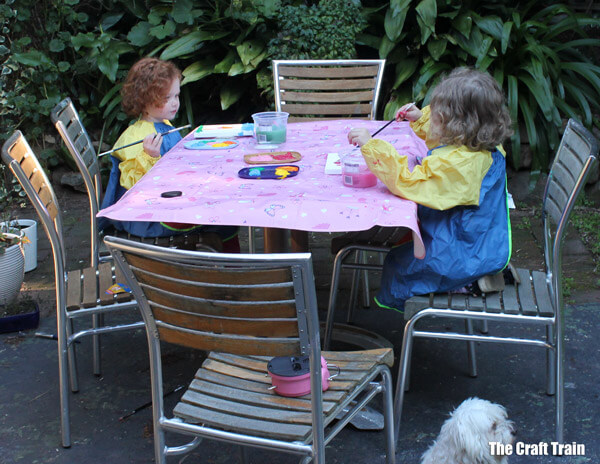 4. Where do you find your inspiration?
Hmmm. That's an interesting question. Animals are a big inspiration for me, a huge portion of my crafts are animal-based. I always look at real animals and think 'How could I make that from paper or cardboard?'. I also follow current trends, holidays, and northern hemisphere seasons because this is what most of my readers are searching for.
5. Are you a one-man band, or do you have your army by now ☺?
I'm a one-woman band. (this one thrilled me the most! You go girl!)
6. You have more than 300 000 followers on Facebook, Pinterest, and Instagram. People enjoy and share your tutorials. How did you succeed to be seen and heard in the sea of crafting blogs? What is your secret?
I don't know. I think it's a combination of luck, persistence, and working on my photography and videography skills. Not every craft is a hit, and even I can't tell which ones are going to go gangbusters and which are going to flop. The secret is to consistently share on social media and keep going even when you feel nobody's listening and nobody cares.
7. I am sure that with a job like this, your days are full of colors and imagination. Do you ever get blocked, or have a period with no ideas on-site? What is your first aid in those situations?
There is no perfect job that you want to do all the time, even if you love your work. So, yes, I have days when I just don't feel like blogging and don't want to make crafts or feel stuck for ideas. When I do I find the secret is just to get started and make something. Ideas have a funny way of multiplying — one always leads to about five more so more inspiration will follow.
8. Does it ever get overwhelming?
Only when I compared myself to other bloggers with way more followers than me!
9. How do you manage your career and your family?
The good thing about blogging is that you can make your work fit your life and take holidays when you want. I get up at 5:30 am so I can get some work done before the kids get up, and then do more during the day while they are at school. It's harder with younger kids though.
10. Someone that makes children so happy around the world as you do, must be a bright and joyful person. Am I right? How would you describe yourself?
That's such a sweet comment! I'm an introverted personality, but I do feel happy and excited by all things creative. I love sharing my ideas and I hope they help to generate the same feeling in others. I hope they help kids learn to think outside of the box and gain the confidence to come up with and share ideas of their own.
11. What are your top 3 crafts?
There are so many, but these are my favorites:
RELATED ARTICLE: Benefits of coloring books for Kids
Creative kids always search their boundaries
If your kid loves it, let them be creative. Let them recycle and make stuff from leftover papers, pieces of cardboard, or different packing or wrapping materials. Let their imagination explode :-). You never know where it is gonna take them.
Among the sea of crafting blogs, we love The Craft Train tutorials. You will find different 3D crafts, all sorts of animals, printables, etc. These are some of our favorites for your creative kids:
During my one year of blogging and contacting many ladies, Kate, even though a famous person has shown to be simple and kind. I wish her all the luck in the world!
Thank you, Kate!
Remember ladies, you can be whatever you want only if you persist and work hard. If you have a passion for something don't be afraid to try and make it a career. Just go for it!
If you didn't know it…
WE ARE STRONGER THAN WE ALL THINK!
Related articles you might like: