Your kid loves coloring, and you wonder what are the benefits of coloring for toddlers and preschoolers? Great, that is a perfect activity for their development in every possible way! Besides pure fun, do you know all the benefits of coloring and activity books for kids that come along with it? Read on and find out more.
There is a GIFT for you on this post – Free printable Easter coloring pages with lots of activities also!
** DISCLAIMER: This post may contain affiliate links. This means I may earn a small commission if you buy something via my links. All thoughts and opinions are my own. I always support only products that I truly love and use.
I will never forget the day my daughter got her first big coloring pages for preschool. It had many pages full of coloring and all types of assignments. She was three years old. Within hours we completed all the puzzles, traced all the dots, and differences, found the odds… Ideas were endless. Finding the odd one out become our favorite entertainment during the time in the car, she just couldn't get enough of it.
I realized, that little sponge was ready to be filled with knowledge and to absorb everything you pour into her. The best part is that they are not even closely aware that they are learning, it is a game for them, and they don't feel the pressure of something they have to do. They just do it because they enjoy it.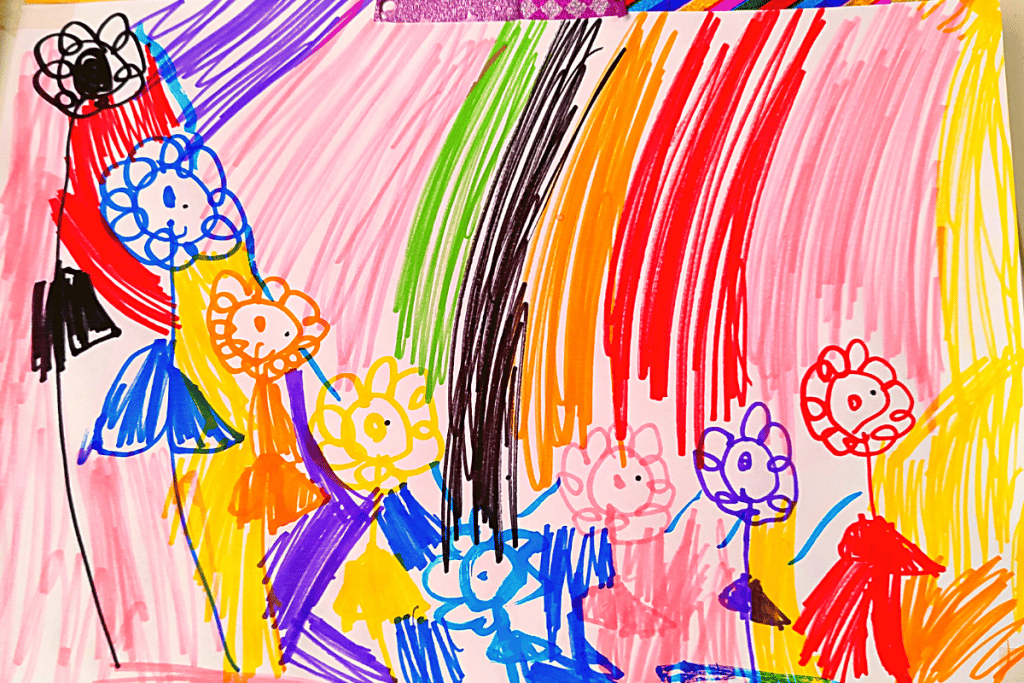 More Coloring Pages – Less SCREEN TIME
I am sure your little ones enjoy coloring and activity books for kids. But did you know all the benefits it brings?
Nowadays in these digital times, it is hard to separate kids from all sorts of screens. They enjoy it as if a new toy was given to them daily. And to be honest, sometimes we just let go if we want five minutes of peace.
But, is it the only, or the right solution? Activity and coloring pages for preschool can be a perfect alternative and will occupy them and definitely bring great mental training.
What are the Benefits of Coloring for Toddlers and Preschoolers?
#1 Nice Handwriting
Do you have nice handwriting? If yes, then probably you did a lot of drawing when you were a child. To perfect their writing kids need the strength and dexterity of their hands.
If they use the pencil on a regular basis it diminishes the possibility of poor pen grip. So, if you want them to have nice handwriting get them busy.
#2 Patience and Tolerance
Patience and tolerance... Those are the hardest qualities they need to overcome. While they are painting they open up those magical doors into their special world of imagination. There they can create and do whatever and however, they like.
They slowly overcome those two mentioned above… Because it takes time to do something, but if you enjoy it, you do become more patient and tolerant.
#3 Emotional Security and Self-respect
The sense of satisfaction, when they accomplish an assignment or finish coloring something, strengthens their emotional security and self-respect.
The preschoolers will be prepared for all the challenges in school, and embrace new tasks in school.
If they believe they can finish what they started, and that they are capable enough, they won't have a fear of failure, and success is inevitable.
#4 Vent for Their Feelings
Activity and coloring pages for preschool kids can be some kind of vent for their feelings. They can blow off all bad emotions and put them on paper. Simply forget about the whole world.
#5 Perfect Bonding Time
We shouldn't ignore the part of bonding with our child. Solving assignments together brings lots of laughter, joy, and pride. The moment I see a sparkle in her eye when I tell her:˝Well done, you should be proud of yourself!˝ gives me a wind in the back to continue in those activities as much as possible.
They do love it when we praise them. I also wrote an article on roughhousing and bonding with our kids, so check it out.
Don't get mad if they draw outside the lines or if the colors are not like in real life. Hey! It is their world and let them color the sun blue, the sea can be yellow, their hair purple, and the apple in rainbow colors. It is their vision of the world around them and lets them show us how they see it.
One other exciting thing is to ask them what they drew and what it means. I will never forget when my daughter was 2.5 yo. She scribbled something… When I asked her if she could explain to me her drawing, she said: ´Mom, this is the whole world… And these are people… Lots of people… You know, it's pretty crowded in the world.˝ I almost fell off my chair after those words, LOL. We are unaware of what is going on in those wise little heads and how many stories and wisdom are hidden there.
Other Coloring Activities for Toddlers and Preschoolers
What can kids draw on besides paper? Why don't you take it to the next level?
#1 Chalk drawing
Take some chalk when you go to the playground,
or put a board on the wall that is always available for them to use it.
#2 Painting Apps for Kids
You can use apps for painting, rather than the usual unuseful screen time
#3 Window Painting for Kids
Or let yourself be a bit crazier and paint the windows as we do! My girls adore painting on windows.
#4 Painting the Walls Maybe?
My kid's grandad even allowed them to draw on his wall while grandma was sick. They drew a rainbow, placed palm marks on the wall, and wrote: We love you, granny!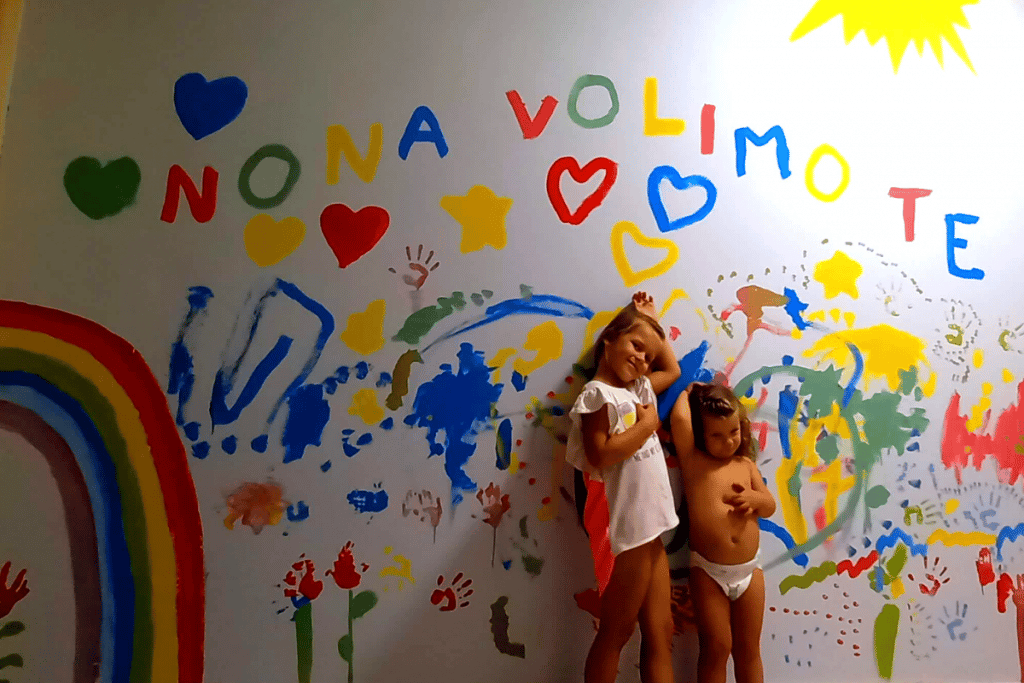 Sometimes all these activities are a bit undoable with the little 2-year-old sis. But we do try to harmonize it all. Younger gets the paint everywhere, even her nose, fingers, and hair. Yes, the washing machine is quite busy in our home LOL.
A GIFT FOR YOU – Free Printable Worksheets for Preschool
To keep the story short and help you cheer up your little creative heads, I prepared for you free printable worksheets for preschool kids. My 6-year-old daughter actively participated in making this book. She was my main judge and critic and source of ideas. I am immensely grateful to her for all the help. The book is full of activities and coloring pages for preschoolers.
Get This Great Coloring Book for Your Child
Here are our free online Easter coloring pages with lots of activities for toddlers and preschoolers. Hope your kids will love it.
SUBSCRIBE AND DOWNLOAD for FREE
suitable for 3 – 6 year-olds
I hope your kids will love the book. This is my first printable project. I have read somewhere: ˝Don't ever publish your first printable.˝ Well, I guess I am the brave one, so I did publish it. Please be kind to the critics ha-ha.
Paint, write, and have fun with your kids, and let them teach you how nice it is to be carefree if only for a bit.
My daughter's favorite color is colorful, so, stay in that tone, be like a rainbow cheerful and diverse…
And remember…
WE ARE STRONGER THAN WE ALL THINK!
Did you find it useful to read all the Benefits of Coloring for Toddlers and Preschoolers? If you did, share, or pin for later!
More Free Printables for your kids
PS. A big thank you to these two sites who gave me permission to use some of their templates! Thanks, you are the best!!
Can you guess what she drew here?
˝Mom, this is a coronavirus, and these hearts are all the love that I send to the sick ones˝. Kids are just adorable