Navigating the world of retro gaming to find the perfect Christmas gift for your gamer husband can be daunting. This guide simplifies the task, offering a curated selection of gifts, from vintage console replicas to classic game collections.
Each item has been chosen for its authenticity, quality, and relevance to retro gaming. Our goal is to help you delight your husband with a gift that resonates with his passion and evokes nostalgia for the golden age of gaming.
** DISCLAIMER: This post may contain affiliate links. This means I may earn a small commission if you buy something via my links. All thoughts and opinions are my own. I always support only products that I truly love and use.
Key Takeaways
Classic arcade gaming machines and retro game console collections make great Christmas gifts for retro gamer husbands.
Retro-inspired gaming attire and old-school gaming posters and decals are excellent options for gaming merchandise gifts.
Literary treats for gaming historians, such as books on the evolution and impact of classic video games, are thoughtful gifts for retro gamer husbands.
Classic game-inspired furniture can be a unique and exciting gift idea for retro gamer husbands.
#1 Classic Arcade Gaming Machines
Diving into the realm of Classic Arcade Gaming Machines, these nostalgic devices serve as an ideal Christmas gift for your retro gamer husband, offering a unique blend of nostalgia and entertainment.
These machines carry a sense of history, each game echoing the golden age of gaming. The vibrant pixel art, the timeless sound effects, and the simple yet captivating gameplay of these machines add to the overall allure, transporting one back to the era of 8-bit and 16-bit video games.
The charm of these machines lies not only in their ability to recreate classic games but also in their physicality.
The joy of standing before the machine, the tactile feedback of the joystick and buttons, and the flickering screen light on the player's face, all contribute to an immersive experience that modern gaming consoles often fail to deliver.
From Space Invaders to Pac-Man, these machines offer a variety of games that cater to different tastes.
#2 Retro Game Console Collections
Transitioning to the concept of Retro Game Console Collections, these treasured compilations serve as another exceptional gift suggestion for your husband who appreciates the bygone era of gaming. The nostalgia evoked by these collections is powerful, transporting your loved one back to the days of pixelated graphics, chiptune soundtracks, and the simple joy of gaming.
There are several remarkable collections that would make a perfect Christmas gift:
| Retro Game Console Collections | Description |
| --- | --- |
| 1. Atari Flashback Classics | This collection offers a nostalgic tour through gaming history with 120 classic Atari 2600, 5200, and arcade games. |
| | |
| --- | --- |
| 3. Sega Genesis Mini | Relive the 16-bit era with this compact console, featuring 42 classic games, including Sonic the Hedgehog, Streets of Rage, and Golden Axe. |
| | |
| --- | --- |
| 4. PlayStation Classic | This miniaturized version of the original PlayStation console comes preloaded with 20 fan-favorite games, including Final Fantasy VII, Tekken 3, and Metal Gear Solid. |
These collections not only represent a physical gift but also a journey back to the golden age of gaming.
#3 Vintage Game Controller Accessories
Continuing from retro game console collections, consider augmenting your husband's nostalgic gaming experience with vintage game controller accessories, an excellent addition to any retro gaming setup. These accessories can enhance the authenticity of the gaming experience, making it feel like a step back in time.
Consider the following vintage game controller accessories that could make the perfect gift for your retro gaming enthusiast:
| | |
| --- | --- |
| Vintage Game Controller Accessory | Reason for Recommendation |
| 1. NES Controller | It's the original gamepad that started it all. |
| | |
| --- | --- |
| Vintage Game Controller Accessory | Reason for Recommendation |
| 2. SNES Controller | Known for its comfortable grip and button layout. |
| | |
| --- | --- |
| Vintage Game Controller Accessory | Reason for Recommendation |
| 3. Atari Joystick | Iconic and essential for any Atari games. |
| | |
| --- | --- |
| Vintage Game Controller Accessory | Reason for Recommendation |
| 4. Sega Genesis Controller | Recognizable 3-button layout for Sega fans. |
| | |
| --- | --- |
| Vintage Game Controller Accessory | Reason for Recommendation |
| 5. Game Boy Carrying Case | Perfect for protecting and displaying his Game Boy collection. |
Each accessory is unique, providing a tangible connection to the past that modern gaming systems often lack. Whether he's reliving the 8-bit glory days of the NES or the 16-bit era of the SNES, these accessories are a must for any retro gamer.
These are not just gifts, but time machines that transport him back to his childhood. Choose wisely and watch his face light up with joy this Christmas.
#4 Retro-Inspired Gaming Attire
Expanding on the theme of nostalgia, retro-inspired gaming attire can be another thoughtful Christmas gift idea that allows your husband to showcase his love for classic video games. Such attire not only brings back the enchantment of games from yesteryears but also serves as a proud declaration of their gaming passion.
Here are four exciting options worth considering:
| Gaming Attire | Reason for Recommendation |
| --- | --- |
| Classic Gaming T-Shirts | These are adorned with logos or art from timeless games like Pac-Man, Space Invaders, or Mario Brothers, and can make a bold statement. |
| Retro Gaming Sweatshirts or Hoodies | Ideal for colder months, these clothing items can feature vintage game graphics or motifs. |
| Novelty Gaming Socks | A subtle way to flaunt his gaming affinity, these socks can sport designs from his favourite retro games. |
| Arcade Game Pajamas | Perfect for lounging or game nights, these PJ's can display graphics from arcade classics. |
Each item of clothing mentioned above can stir fond memories and stimulate engaging conversations about the golden era of gaming. Nostalgic and stylish, these gifts are sure to delight your retro gamer husband this Christmas.
#5 Old-School Gaming Posters and Decals
While retro-inspired attire provides a wearable tribute to his gaming past, gifting your husband old-school gaming posters and decals can offer a visually appealing celebration of his love for vintage video games. These nostalgic pieces of wall decor can transform any space into a gamer's paradise, evoking fond memories of joystick jousting and pixelated adventures.
There is a rich variety of game-themed posters and decals available, from iconic game characters to legendary game scenes.
Consider gifting an expansive poster showcasing the evolution of Super Mario or a minimalist decal of the classic Space Invaders. These are not only visually striking, but they also serve as a fun tribute to the games that have shaped the gaming world.
You can also look for:
game cartridges,
or even pixel art characters.
Each piece is like a time capsule, taking him back to the golden age of gaming. Gifting these items is more than just enhancing his gaming space. It's recognizing and honouring his enduring passion for the games that defined his youth
This Christmas, let your gifts echo the nostalgia and excitement of classic gaming.
#6 Retro Game Soundtracks on Vinyl
A third thoughtful gift idea for your retro gamer husband is the inclusion of retro game soundtracks on vinyl, a unique and nostalgic nod to the memorable tunes of his favourite classic games. This gift not only appreciates his love for retro gaming but also combines it with the warmth and depth of vinyl records.
Iconic Soundtracks: Many classic games like 'Super Mario Bros.', 'The Legend of Zelda', and 'Final Fantasy' have their soundtracks available in vinyl format, offering the perfect blend of nostalgia and quality sound.
Quality: Vinyl records have a unique warmth and depth in sound that digital formats cannot replicate, offering a superior listening experience.
Collectible: These vinyl records, often limited editions, add value to your husband's collection of gaming memorabilia. They also come with stunning cover art, making them a stylish addition to his gaming den.
Experience: Listening to these soundtracks on vinyl can transport your husband back to his favourite gaming moments, creating a nostalgia-laden immersive experience like no other.
A gift of retro game soundtracks on vinyl is not just a present, but a journey back to the golden era of gaming, wrapped in the timeless charm of vinyl records.
#7 Literary Treats for Gaming Historians
For the husband who treasures gaming history, books chronicling the evolution and impact of classic video games make an insightful gift. These literary masterpieces transport readers back to the times when Pong was the height of innovation, and Atari reigned supreme, providing a nostalgic journey into the origins of the industry that shaped their passion.
Titles like 'The Ultimate History of Video Games' by Steven L. Kent and 'Console Wars' by Blake J. Harris offer a comprehensive look into the stories behind the games, their creators, and the battles waged in the gaming industry. These books not only encapsulate the spirit of the times but also highlight the technological advancements that led to the development of modern gaming.
For the devoted fan of a specific gaming system, 'The NES Encyclopaedia' by Chris Scullion is an ideal choice. It delves into every game released for the Nintendo Entertainment System, offering a glimpse into the golden era of gaming. Similarly, 'The Sega Arcade Revolution' by Ken Horowitz is a treasure trove of information on Sega's arcade legacy.
In essence, these literary treats serve as a time machine, taking your husband back to the pixelated landscapes of his childhood, igniting his passion and appreciation for the evolution of his beloved pastime.
#8 Retro Gaming Coffee Table Books
Diving into the realm of retro gaming coffee table books, these visually appealing tomes offer an artistic and nostalgic exploration of classic video games. They are the perfect gift for your retro gamer husband, providing a unique blend of aesthetics, history, and gaming culture.
These books are not just decorative pieces, they are immersive experiences, inviting the reader to relive the golden age of gaming.
#9 Classic Game-Inspired Furniture
Your husband's gaming sanctuary can be further enhanced with classic game-inspired furniture, adding a tangible sense of nostalgia and fun to his personal space. Such furniture pieces not only serve a functional purpose but also celebrate his love for retro gaming, creating an immersive environment that takes him back to the golden age of video games.
Consider these options:
These pieces will not only transform his gaming area into a retro gaming haven, but they also serve as conversation starters. Each piece, deeply rooted in the history of gaming, will remind him of the joy and excitement he felt when he first discovered these classic games.
This Christmas, give him a gift that combines his love for gaming with practicality, a gift that he will cherish for years to come.
#10 Retro Gamer Subscription Boxes
Enhancing your husband's retro gaming experience, Retro Gamer Subscription Boxes offer a monthly treasure trove of nostalgic gaming memorabilia. These boxes, filled to the brim with exclusives, are a fantastic way to indulge his love for the golden age of video games.
Exclusive Collectibles: These boxes usually contain exclusive figurines, pins, and patches related to classic games. These unique items cater to the tastes of retro gaming enthusiasts, offering them a tangible connection to their beloved gaming past.
Vintage Games and Accessories: Often, these boxes will include vintage games, cartridges, and other accessories. This allows your husband to revisit the games of his youth and perhaps even share those experiences with you or your children.
Themed Apparel: Retro-inspired t-shirts, caps, and socks often feature in these boxes, allowing your husband to wear his passion for gaming on his sleeve, quite literally.
Artwork and Posters: Subscription boxes often include high-quality prints of game artwork, perfect for decking out a gaming room or office.
With their blend of nostalgia and exclusivity, Retro Gamer Subscription Boxes are a thoughtful and unique gift for your retro-gaming husband this Christmas.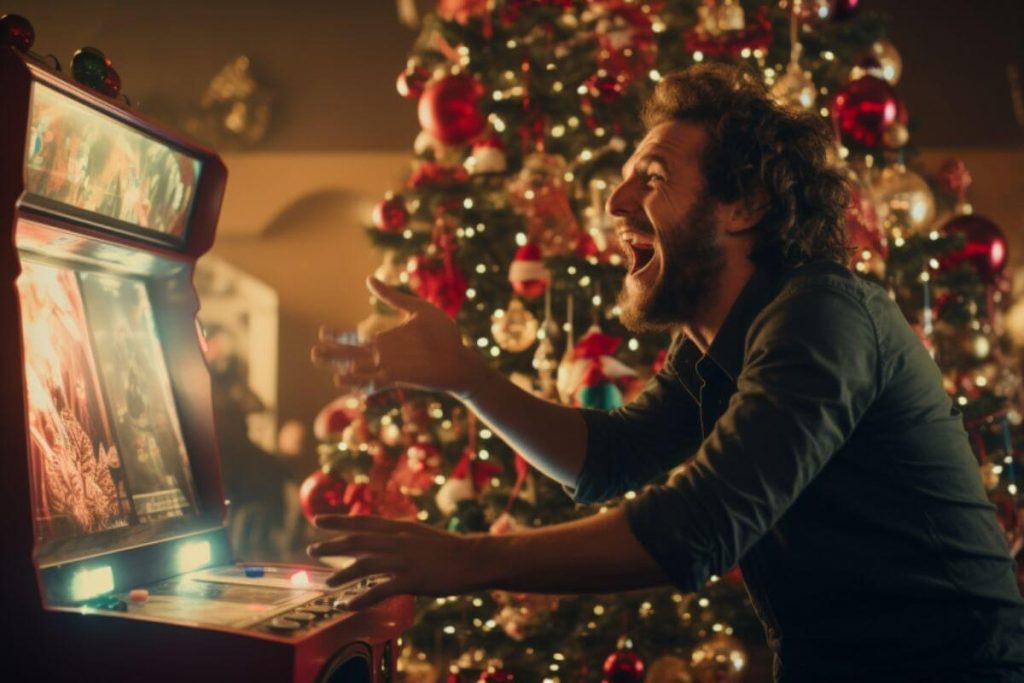 #11 DIY Retro Gaming Kits
For the hands-on retro gaming enthusiast, DIY Retro Gaming Kits serve as an engaging and rewarding gift option. These kits provide the opportunity to assemble and program their own gaming system, creating a personalized experience that harkens back to the golden age of gaming. They are more than just a gift; they are an immersive journey into the roots of video gaming culture.
DIY Retro Gaming Kits come with all the necessary parts and instructions to build a fully functional retro gaming console. They offer a unique way to experience the nostalgic joy of old school gaming, whilst also providing an insightful learning experience into the mechanics of gaming technology.
What sets these kits apart is their ability to merge past gaming experiences with present day technology, a blend of nostalgia and innovation. They evoke memories of simpler times when games were less about graphics and more about gameplay. The satisfaction derived from building your own gaming system is unparalleled, making DIY Retro Gaming Kits the perfect Christmas gift for your retro gamer husband.
#12 Vintage Game Store Gift Cards
An excellent choice for your husband, who is an avid retro gamer, would undoubtedly be a gift card from a renowned vintage game store. These specialty stores are treasure troves, filled to the brim with classic games, consoles, and memorabilia that can transport any gamer back to their childhood.
A vintage game store gift card offers numerous benefits:
Variety: With a vast selection of games ranging from the Atari era to the Nintendo 64 days, your husband can pick and choose to his heart's content.
Flexibility: He can use the gift card at his leisure, ensuring he makes a thoughtful purchase rather than an impulsive one.
Nostalgia: Unearthing a beloved game from his past would undoubtedly bring a wave of nostalgia, rekindling fond memories associated with that game.
Community: These stores often have a community of like-minded enthusiasts, where your husband can engage in enriching discussions about his favourite pastime.
In essence, a vintage game store gift card is not just a gateway to retro games, but a ticket to a cherished era, making it the perfect Christmas gift.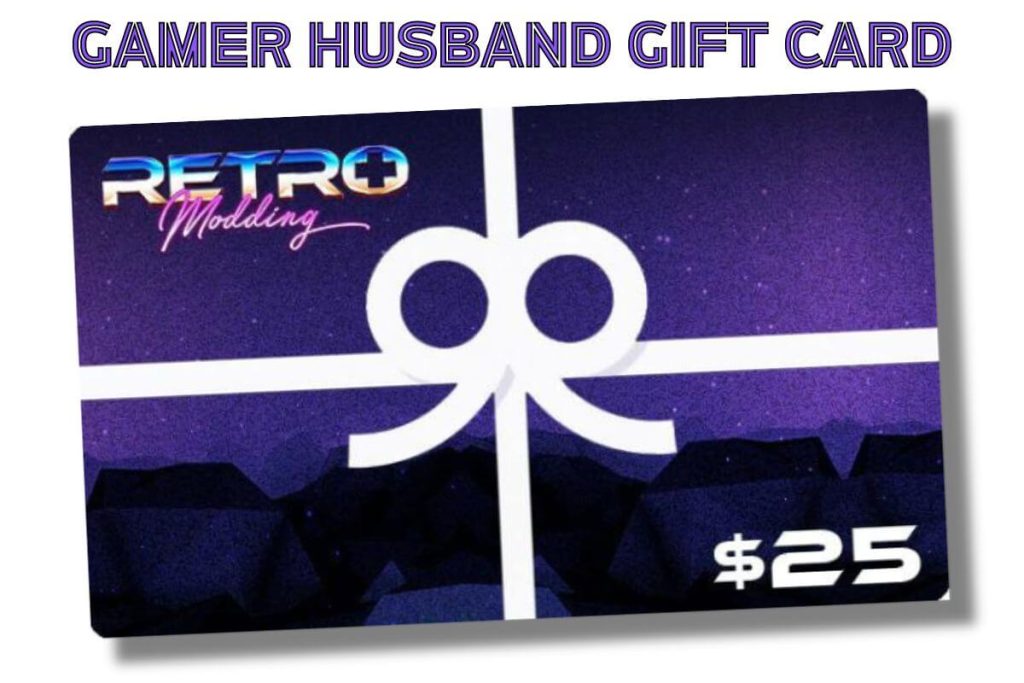 Frequently Asked Questions
What Are the Key Differences Between the Classic Arcade Gaming Machines and Retro Game Console Collections?
Classic arcade machines offer an authentic gaming experience with original graphics and controls. Retro game console collections, however, provide a convenient way to enjoy multiple games, often enhanced for modern compatibility and playability.
How Does the Quality and Durability of Vintage Game Controller Accessories Compare to Modern Ones?
While vintage game controller accessories offer a unique, nostalgic gaming experience, their durability often pales in comparison to modern ones, which are designed with advanced materials and technology to withstand frequent, intensive use.
What Characterizes the Retro-Inspired Gaming Attire, and How Does It Reflect the Gaming Culture of the Past?
Retro-inspired gaming attire is characterized by vibrant colors, pixelated designs, and iconic game references. It reflects the nostalgic aesthetic and rich pop-culture history of past gaming eras, embodying a tangible connection to classic gaming culture.
How Are Old-School Gaming Posters and Decals Used to Enhance the Gaming Environment?
Old-school gaming posters and decals evoke nostalgia, transforming spaces into immersive gaming environments. They reflect iconic games, enhancing aesthetic appeal while serving as a tribute to the rich history of gaming culture.
What Unique Benefits Do Retro Gamer Subscription Boxes Offer Compared to Purchasing Individual Items?
Retro gamer subscription boxes offer curated, surprise assortments of vintage gaming merchandise. They provide value and convenience, eliminating the need to source individual items, while enhancing the element of nostalgia and discovery for the recipient.
Conclusion
In conclusion, the joy of retro gaming lies in its simplicity, nostalgia, and timeless appeal. The perfect Christmas gift for a retro gamer husband combines these elements with quality, authenticity, and usability.
By choosing from classic arcade machines, retro consoles, vintage accessories, themed attire, posters, furniture, subscription boxes, DIY kits or gift cards, one can truly celebrate and honour their husband's passion for retro gaming, ensuring a memorable and heartwarming Christmas celebration.
More interesting articles for you