Parents often ask themselves a question when should a child recognize letters of the alphabet? It is important to note that children learn at different rates, and some may recognize letters earlier or later than others.
It is also important to consider that recognition of letters alone does not guarantee full literacy skills acquisition. I researched this topic for you thoroughly and will present to you some fun ways to teach letter recognition.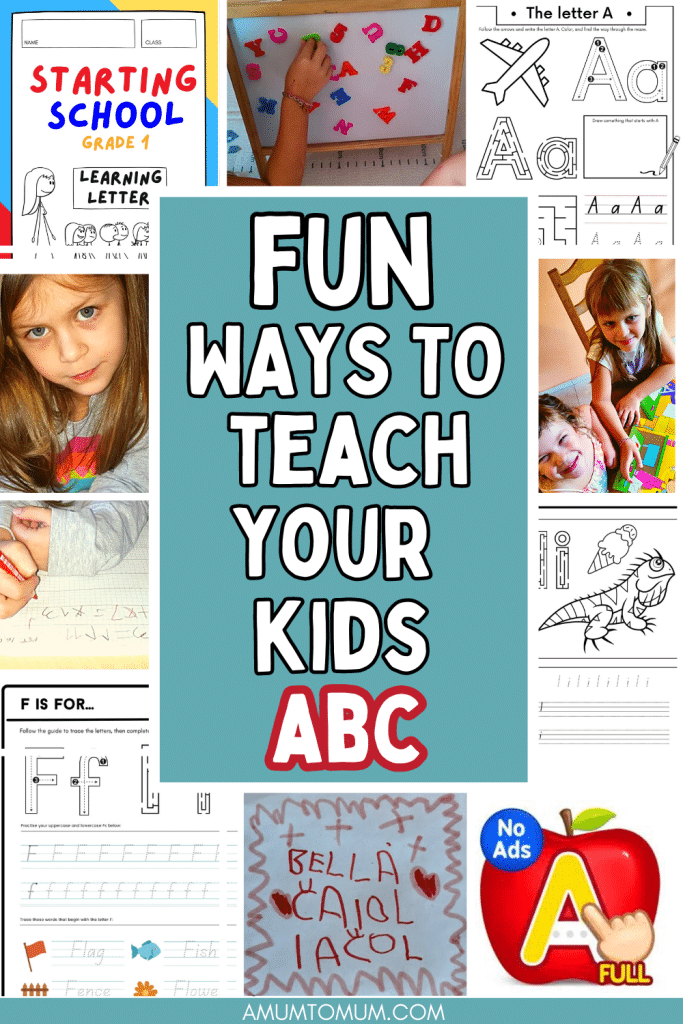 At What Age Should a Child Recognize Letters and Numbers
From ages 3-4, most toddlers are able to:
Identify familiar signs and labels.
Participate in rhyming games.
Identify some letters and make some letter-sound matches.
Use known letters to represent written language, especially for meaningful words like their names or phrases such as "Thank you."
At age 5, most kids are able to:
Recognize letters, numbers, and letter-sound matches.
Show familiarity with rhyming and beginning sounds.
Begin to match spoken words with written ones.
Begin to write letters of the alphabet and some words they use and hear often.
Begin to write stories with some readable parts.
At age 6, most kids can:
independently choose to utilize reading and writing for various purposes.
One can easily read some things aloud.
Use letter-sound matches, word parts, and their comprehension of the remaining content in a book or printed item to identify new words.
Learn to recognize a growing number of words by sight.
When trying to spell a word, identify the primary sounds and represent them.
Write about subjects that are important to them.
Aim to capitalize and punctuate your sentences.
Read more about detailed Language Accomplishments for Children in an article from the U.S. Department of Education
RELATED ARTICLE: Why do kids love stickers so much?
** DISCLAIMER: This post may contain affiliate links. This means I may earn a small commission if you buy something via my links. All thoughts and opinions are my own. I always support only products that I truly love and use.
Fun Ways for Learning Writing Letters
With experience, I have gathered some great literacy activities for preschoolers and toddlers. With this method, my firstborn knew to recognize all the letters of the alphabet by the age of 4. Youngers learn even faster, but that often happens when kids have an older sibling at home.
1. ABC Books
ABC books are the first step to letter recognition for kids. My daughter was not even 2 years old when she loved going through color, number, and alphabet books.
The most important thing is that you keep it on a fun level, and never force learning at this young age.
If they dislike it, postpone it for a couple of months, and try again.
These fun learning books help kids visualize numbers and letters and with time they connect the image of a car with the letter C.
2. Magnetic Letters and Numbers
Magnetic letters and numbers are a fun way to teach letter recognition. Buy those simple magnetic alphabet letters for the fridge, and let them play with it.
Ask them to find the letter A, and place it on a board
Go through the alphabet and keep track of which letters they struggle with the most
Then push those letters a bit more, so they memorize them
RELATED ARTICLE: How to deal with siblings fighting over toys
3. Place the Letter in a Circle
Place the letter in a circle is a little ABC game we created on our own, and it's amazing!
Draw circles and write each letter in its circle
Get some small letters. We bought them online, but you can cut small letters also
Show your kid the letter G for example and ask him to place the letter in the corresponding circle
My girls loved this game.
Here is a short idea Pin so you can see the idea.
It is also a great activity for siblings to do together. See how the older one is teaching the little one 🙂
4. Write and Wipe ABC Books
Write and Wipe ABC books are educational tools designed to help young children learn the alphabet. These books typically consist of pages with each letter of the alphabet printed on them, along with corresponding pictures or words that begin with that letter.
The unique feature of Write and Wipe books is that the pages are laminated or coated with a special material that allows children to write on them with erasable markers or crayons, and then easily wipe the marks away for repeated use.
Write and wipe activities encourage children to practice their graphomotor skills by having them trace lines, join dots, fill in blanks, or copy shapes.
Children can learn to become more perceptive, more aware of their surroundings, to focus better, and to write with the appropriate grip thanks to them
It's a fun activity you can take with you wherever you go. I remember we used to take these books when visiting grandma, or on a vacation.
These books were a major discovery when my daughter was 4 years old! She loved the fact she could write, wipe, and do it all over again.
5. Number and Letter Learning Apps
There are numerous educational number and letter learning apps. Even if I am strongly against too much screen time for kids, educational time can be very effective!
The one we enjoyed the most was ABC Kids – Tracing & Phonics. This is not a sponsored post, just my own opinion and observation.
The educational game ABC Kids is entertaining and original
it is made for preschoolers and kindergarteners to help them learn their ABCs.
It has lots of features to assist parents in keeping track of their children's academic progress, amusing mini-games, inventive stickers and gift prizes, and vibrant graphics.
The best thing is that there are no in-app purchases or outside advertisements!
6. Letter Recognition Activity Book – Free Printable
To help you with finding alphabet knowledge activities I have created a free printable letter recognition activity book for your little ones. Print them out and let your kids have fun tracing letters, mazes, and other fun activities.
Download a free ABC Activity Book
Let your kids learn and play with these fun learning worksheets.
RELATED: How to wash toddlers' hair without tears?
FAQ
Is it normal for an 18-month-old to know the alphabet?
It is not unusual for an 18-month-old to show some familiarity with alphabet letters. Although they may not fully comprehend the meaning of the letters, they might recognize them visually or through repetitive exposure. To further support their letter recognition skills, parents can engage in activities such as reading alphabet books, singing alphabet songs, and incorporating shape recognition exercises. These activities promote visual discrimination, fine motor skills, and cognitive development milestones.
How can I help my 5-year-old recognize letters?
For a 5-year-old, letter recognition can be enhanced through various strategies. Introducing phonics can be beneficial, as it helps children associate sounds with letters. Engaging in activities that involve letter identification, naming, and tracing can also be helpful. Parents and educators can provide alphabet books, flashcards, and interactive games to reinforce letter recognition. By focusing on reading readiness and utilizing early childhood education standards, children can develop their literacy skills effectively.
What are the hardest letters for kids to recognize?
Some letters may be more challenging for children to recognize than others. For instance, lowercase letters might pose more difficulty because they often have different shapes compared to their uppercase counterparts. Letters with similar shapes, such as lowercase b and d, can also be confusing. Additionally, letters with more complex formations, such as cursive letters, might require additional practice and guidance.
When can kids count to 20?
By the age of 4, many children can count up to 20. This is considered a cognitive development milestone and a part of early numeracy skills. Engaging in counting activities, using manipulatives, and incorporating numbers into everyday routines can help children develop their counting abilities. However, it is important to note that individual development may vary, and some children might reach this milestone earlier or later.
How high should a 4-year-old count?
At the age of 4, children are typically able to count up to 10 or even higher. By this age, they have usually developed a basic understanding of number sequencing and quantity. Parents and educators can support their counting skills by providing opportunities for practice and reinforcement. Incorporating counting into daily activities, such as counting toys or steps, can help children strengthen their number recognition and counting abilities.
Conclusion
Supporting letter recognition and counting skills in preschool and kindergarten-age children involves a combination of activities that promote phonics, visual discrimination, fine motor skills, and cognitive development milestones. By adhering to early childhood education standards and utilizing resources such as alphabet books and interactive games, parents and educators can effectively foster children's literacy and numeracy development.
I wouldn't worry about when should a child recognize the letters of the alphabet. Try to focus more on fun literacy activities for your toddler and preschooler. That is the only way they can learn – fun and play!
Never force them to learn at this young age, but rather find a way that is acceptable for your child. A way that he finds interesting and enjoys doing.
Hope you like our fun ways to teach letter recognition and that they will be useful to you!
Have fun, and remember…
WE ARE STRONGER THAN WE ALL THINK!