Want to make kindergarten learning enjoyable for your child? I am sure they will love this Spring-Themed Kindergarten Activity Booklet I made! It's packed with fun activities with amazing spring visuals, and solutions provided at the end, it's an easy way to encourage school readiness and success while keeping your child engaged and entertained.
So why not give your child the gift of enjoyable learning with this kindergarten activity booklet?
Jump straight away to download? Click HERE
RELATED ARTICLE: Brainteasers for Kids – Free Printables
What is included in this Spring-Themed Activity Booklet?
#1 Fill In The Images
Kids can finish and then color the drawing.
#2 Dot To Dots
Dot-to-dot games are a great learning activity for kindergarteners. They help develop hand-eye coordination, and fine motor skills, and improve concentration and focus. Besides that, they introduce children to numbers, counting, and basic shapes.
I know my girls love this game, so I'm sure yours will too!
RELATED ARTICLE: Alphabet Activity Book
#3 Wordsearches
Sight word games can be quite challenging for kindergartners and first-graders, so they might need some help from you. This activity booklet for kindergarten offers a colorful word search game. Not only do they help improve vocabulary and spelling skills, but they also enhance cognitive abilities such as concentration and attention to detail.
#4 Mazes
Maze games are great for kids. They help develop problem-solving and critical thinking skills and promote hand-eye coordination and spatial awareness. Maze games can also be a fun and engaging way for kids to challenge themselves and increase their confidence as they successfully navigate through various levels and puzzles.
Read more about the benefits of mazes for preschoolers and kids in general – HERE.
#5 Wordscrambles
Word scramble games are excellent tools for kids to enhance their spelling and vocabulary skills. These games not only stimulate their brains but also offer a fun educational experience. As they try to unscramble the jumbled words, children learn to identify patterns and improve their memory.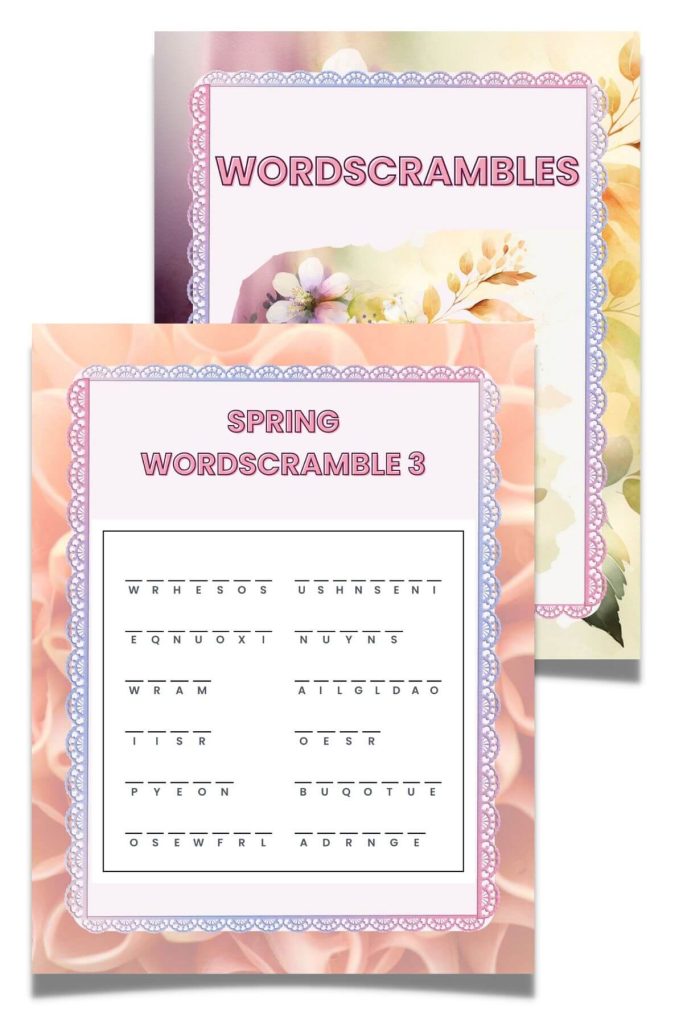 #6 Coloring Pages
I already wrote an article on coloring pages and its benefits. Besides pure fun, there is always something they learn from it and prosper.
#7 Solutions
You will find the solutions to the hardest brain teasers for your child.
The booklet is a great way for kids to learn while having fun and guarantees to keep them entertained for hours. It's a perfect educational resource for parents, grandparents, and teachers to help children explore nature and the changing seasons.
** DISCLAIMER: This post may contain affiliate links. This means I may earn a small commission if you buy something via my links. All thoughts and opinions are my own. I always support only products that I truly love and use.
Download Your Worksheets
I am sure you and your kids will love this booklet, its colors, images, and all that spring spirit that comes with it!
Top 5 Fun Activity Books for Kindergarten and Preschool
Here are the top 5 activity books for kindergarten from Amazon based on ratings and popularity. You can buy them as a perfect non-toy gift, or start with those if your kid loves books in a paperback format better:
Summer Bridge Activities by Summer Bridge Activities – Made to keep kids' skills sharp over the summer break. It includes activities for math, reading, writing, and language arts. It has received over 6,000 ratings and has been a best-seller for several years.
My First Learn to Write Workbook by Crystal Radke – This workbook is designed to help kids learn proper letter formation and handwriting skills. It includes tracing and writing activities for each letter of the alphabet. It has received over 5,000 ratings and is a best-seller on Amazon.
RELATED: Kawaii Girl Coloring Pages
Learning Worksheets are Fun with a Purpose
Activity worksheets are an excellent way for children to learn while having fun because they combine education with entertainment.
They are easy to read, fun, and engaging. Hours of fun are guaranteed.
Unlike traditional textbooks, activity books offer engaging exercises that test a child's knowledge and promote critical thinking skills. These books often contain lots of brain teasers that challenge children to use their minds creatively.
Well-made activity booklets teach a child how to learn and enjoy the process of education. They support and supplement classroom learning and can help sustain academic growth during summer breaks or school holidays.
In conclusion, activity books are a great way to introduce learning through play and help children develop their love for learning.
I just love creating activity books for toddlers, preschoolers, and elementary school kids! It's just something that really makes me happy.Hope it will bring joy to your home as it does in mine.