For years, my kid was afraid to learn to ride a bike without training wheels. When she was 7 years old her friend showed her a great method that made her ride within 5 minutes! Interested to see our method on how to teach a kid to ride a bike without training wheels? Keep reading
This method was invented by a child. How great is that?! Kids are amazing, and they can come up with awesome ideas we would never think of.
Easiest How to Teach a Kid to Ride a Bike Method
Step #1
Take a smaller bike without training wheels that your kid outgrew, or borrow from a friend as we did
Make sure your kid can stand safely with both feet on the ground while sitting on a bike
This will make your kid feel safe in every moment, and won't be afraid of falling
** DISCLAIMER: This post may contain affiliate links. This means I may earn a small commission if you buy something via my links. All thoughts and opinions are my own. I always support only products that I truly love and use.
Step #2
Allow your kid to try and ride this smaller bike
You will be amazed how your usually scared kid is now making progress and starting to learn
Every time he feels insecure or loses balance he can place his feet on the ground and start over
You will see that within minutes he will start to ride a bike independently
Step #3
Once the child feels secure enough on a small bike, let them try it on a big bike
As they learned how it works, they will have no trouble with balance
And that's it!
We prepared a short YouTube video on how to teach a kid to ride a bike, so you can see all the steps in a simple way
We can't thank enough our little friend who discovered this easiest bike drive learning method. Within minutes my daughter was enjoying her bike with her friends. If someone had told me that would happen when I woke up, I wouldn't believe it.
Not only kids will benefit from this tutorial but it also applies to adults who want to learn to ride a bike. This will make them feel less ashamed as they can learn to ride a bike alone, without assistance.
RELATED ARTICLE: Be aware of bee stings while enjoying your bike ride. Here is my instant help if you get stung!
What Age Should My Child Be Able to Ride a Bike?
While every child is different, most kids can get the hang of it between ages 5 – 8. There are some general guidelines to keep in mind:
Balance and coordination – Children need to have good balance and coordination to ride a bike. This typically develops between the ages of 4 and 6. Kids who learned to ride a balance bike will be ready sooner than others.
Physical ability – Riding a bike requires a certain level of physical ability, including the ability to pedal, steer, and brake. Most children are physically capable between the ages of 5 and 8.
Interest and motivation – Kids who are interested in riding a bike and motivated to learn will likely pick it up more quickly. Encourage your child to express their interest and provide plenty of positive reinforcement.
Remember, every child is different, and there is no set age at which a child should be able to ride a bike. The most important thing is to provide plenty of support, encouragement, and opportunities to practice. With patience and persistence, your child will be riding like a pro in no time!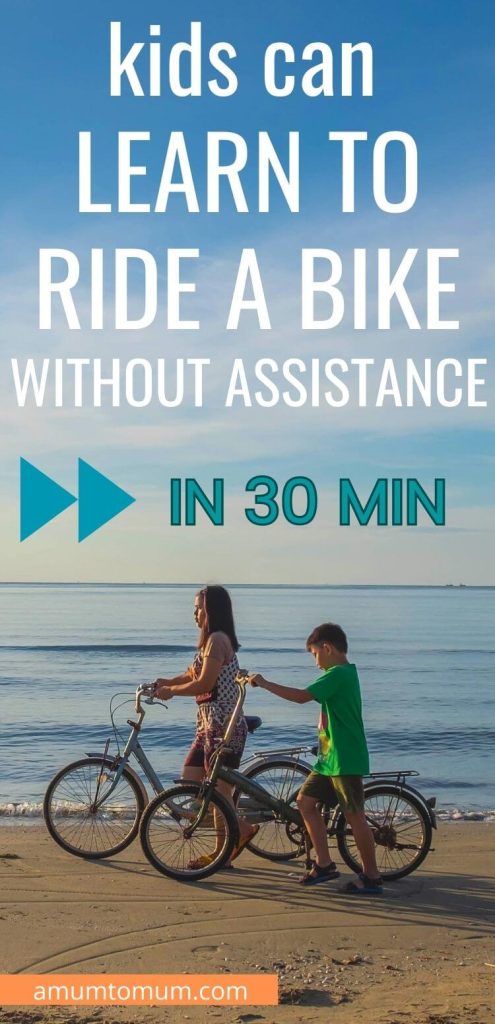 Why is it Important for Kids to Learn to Ride a Bike?
They will enjoy this activity more and spend less time at home using screen time as their favorite activity.
Riding a bike gives your kids a sense of independence and freedom.
Guidelines from the Department of Health and Human Services recommend that children aged 6 and older need at least an hour a day of moderate or vigorous aerobic activity.
Making new friends and socializing.
Improves kids' health and boosts the functionality of a whole body
As it stimulates more brain regions, increases kids' concentration which leads to better school results
Bike riding helps with ADHD disorders, and regulates moods and behavior. They cope way better with their emotions and feelings
Promotes gender equality – Boys and girls drive together and never make a difference among their gender
Bike riding is great for the environment. It doesn't pollute our planet in any way
It's so much fun!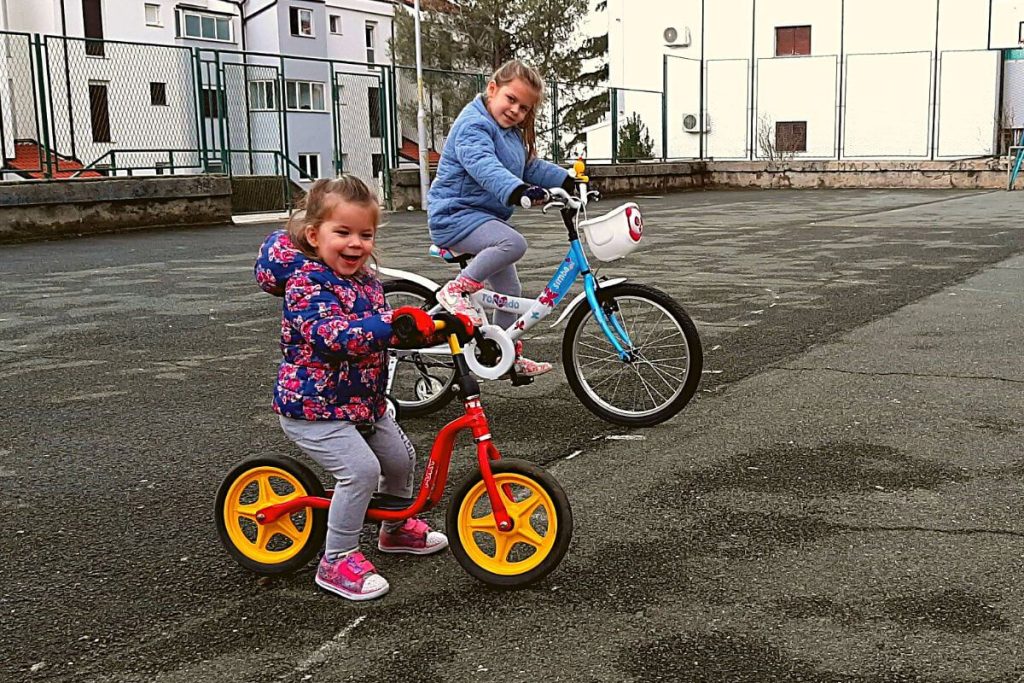 **Disclosure: This page contains affiliate links. If you choose to purchase after clicking a link, I may receive a commission at no extra cost to you.
Top 10 Bicycle Safety Tips
Always wear a helmet
Buy the right size of bike for your child
Teach them to always have both hands on the handlebars, no matter how safe they feel
Teach them from their youngest age to ride on the right side
Never let your child ride a bike at night. There are special skills required for night riding.
When big enough to ride on the street, teach them hand signals, traffic signals, and stop signs
Make them wear bright clothes so they are always visible. Neon and fluorescent may be your best choice
Always wear sneakers, and forget about flip-flops or sandals
No headphones while bike riding. Your kids need to be alert and aware of what's going on around them
Have a bike bell that your kid can use, the one appropriate for his age
Where Should You Teach Your Child to Ride a Bike?
Deciding where to teach your child to ride a bike can be a tricky decision. Here are some factors to consider when choosing the best location:
Space – Look for a location with plenty of space for your child to practice riding without any obstacles or hazards. A large, flat, and open area like a park or a school parking lot can be a great option.
Surface – Make sure the surface is smooth and free of debris that could cause your child to lose balance. Avoid areas with gravel or uneven pavement.
Traffic – Choose a location with minimal traffic or no cars at all to ensure your child's safety. A quiet neighborhood street or a bike path can be a good choice.
Terrain – Consider the terrain of the location. A flat surface is ideal for beginners. But if your child is ready for a challenge, a slightly hilly area can be a great way to build their confidence and improve their skills.
Remember, the most important thing is to choose a location where your child feels comfortable, safe, and supported. With the right location and plenty of practice, your child will be riding like a pro in no time!
Final words
Hope I covered all the tips on how to teach a kid to ride a bike without training wheels. It is a fun activity beneficial in many ways as you have read. I would love to hear your opinions and suggestions. How did your kid learn to ride a bike? Was he scared? What method did work for you best?
Can Kids Learn to Ride a Bike Alone? Yes, they can. And there is nothing that makes us happier as a parent than to see our kids with that glow in their eyes when they accomplished something on their own. The pride and self-content burst out of them. My daughter was out of the moon! Hope this bike ride learning method will work for you as it did for us. Good luck!
More interesting articles for you to read: