Does your toddler or preschooler scream while you wash their hair? Are you dreaded of tantrums in the bath tab? I hear you. My daughter used to scream and cry in the shower so loudly, it frightened me every time. But, after many trials and errors, by the time our second daughter was born, we had found the best tearless hair wash method for toddlers. It's fun and effective, my best mom hacks ever!
Make Hair Washing a Fun Activity
Here is how I wash my toddler's hair without crying, and without water getting in eyes or ears! We made hairwashing a fun activity. We call it 'A Sallon Hair Wash'
Tell your kid, that you are going to play salon-style hair wash.
Place a small chair in front of a bathtub
Have your toddler lean his head back at the edge of a tub
Roll a towel and place it under your kids neck and wash it salon like
There is no chance of water dripping on their face or eyes
You will be amazed by the effect
You can also use this method in a kitchen sink as well
Here is a video of how we wash toddlers' hair:
I only regret I didn't think of this before. This method has saved my life, LOL. When I published it on Pinterest many moms were so grateful for this shower super mom hack!
RELATED ARTICLE: My child refuses to eat
Equipment that might help
It is a portable hair Wash basin for the bathtub or sink, and it looks amazing
Don't you think this looks amazing?
Here is a review of it so you can check it out for yourself.
**Disclosure: This page contains affiliate links. If you choose to purchase after clicking a link, I may receive a commission at no extra cost to you.
Other methods that might help so water doesn't go to toddlers' eyes:
1. Bath Visor for Toddlers
A bath visor for toddlers' hair wash is effective if your kid will allow you to place it on their head. For us, it worked for a while, but then she refused to place it on the head. It is a simple and low-budget gadget for kids' hair-wash routine.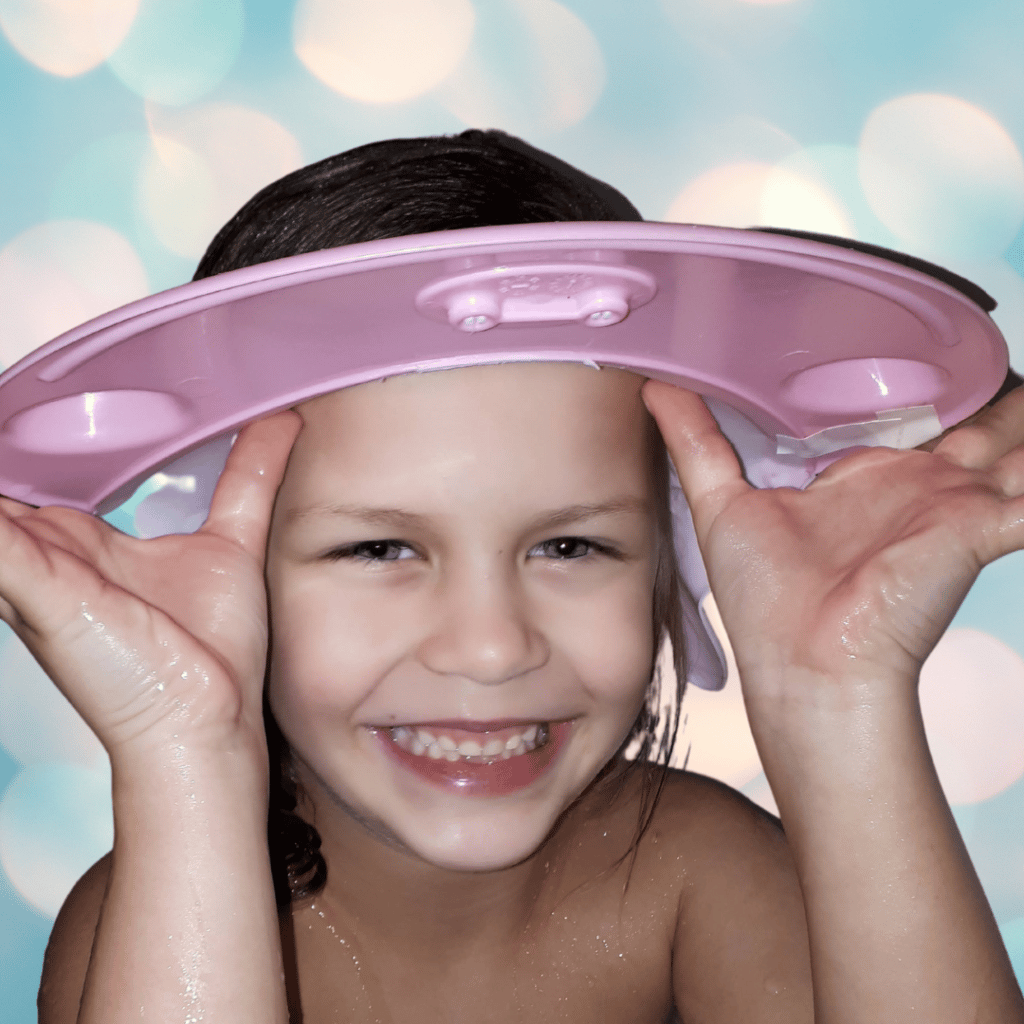 2. A Cloth Over Eyes During Hair Wash
I used this shower method with my firstborn daughter, which came in handy.
Let your kid hold a cloth or a small towel over his eyes while you shower their hair.
Tell them to keep their eyes closed and hold the towel tight.
Maybe this method will suit you or your kid the best, who knows?!
3. New Update, New Hairwash Method
Yesterday my 4.5-year-old daughter found a new way for a tearless hair wash!
As she finished her bath time she decided she will shampoo her hair on her own. I was happy with that progress and allowed, of course.
Once she finished she started to cry and said she wanted a salon hair wash. As I showered her body I asked her to look at me to wash just the back of her head.
She didn't want to.
So I opened the shower to a minimum flow, so minimum, that there was no loud shower sound. Then she relaxed and allowed me to wash her entire hair!!!
She was so happy and proud! I just had to share this with you right away.
So step by step:
Allow them to shampoo
Shower on super low
First at the back of their head
Slowly as they look at you go to the top of the head
I really hope this will be a success for you too!
Conclusion
Hope you are reading this while your kid is still just a baby, and you will never meet the hell of a screaming kid in the shower. Enjoy a tearless hair-wash routine with your kids, and share with your friends.
Be sure to let me know how did it work for you.
More helpful articles to read:
.