In this article, I will give you helpful tips from childcare professionals on how to put a baby to sleep in 40 seconds. Getting a baby to fall asleep quickly can be a challenge for many parents.
If you are feeling tired and frustrated from spending lots of time trying to get your baby to sleep, only to have them wake up when you put them in the crib, you're not alone.
Lots of moms and dads go through this. But don't worry, there are solutions. You'll learn the secrets to a good night's sleep for you and your little one.
Techniques for Quick Baby Sleep
There are many techniques for quick baby sleep you can follow. Here are the best ones!
#1 Tissue Baby to Sleep Technique
Mastering the tissue trick represents a focus, aiming to enable you to put your baby to sleep in a short span of 40 seconds.
The tissue trick, as a method, requires the gentle dragging of dry tissue over your baby's face until the baby's eyes begin to close. This technique, in its essence, provides comfort and relaxation for your baby, increasing their likelihood of falling asleep.
The effectiveness of this technique increases particularly when the baby displays signs of tiredness, such as eye rubbing or yawning.
The tissue trick, despite its lack of scientific research backing, has been recognized by many parents as a useful tool in their bedtime routine.
RELATED ARTICLE: Are You an Overstimulated Mom? What are the Symptoms, and How To Deal With It
#2 Eyebrow Stroke Method
The eyebrow stroke technique is a popular baby sleep hack that has been passed down through generations. It involves gently stroking the baby's eyebrows from the hairline downwards to encourage their eyes to close.
This technique takes advantage of the instinctive response to close our eyes when something comes towards us. By gently stroking the baby's eyebrows, they may realize that it feels good and keep their eyes shut. It is suggested to start at the hairline and work downwards.
If the baby is already sleepy, they are more likely to respond positively to the eyebrow stroke.
While the basic technique involves stroking the eyebrows from the hairline downwards, there are slight variations such as making a figure eight around the baby's eyes.
Many parents swear by the effectiveness of this hack, but it may not work for every baby. It is worth trying as it has been successful for many, but it is important to remember that each baby is different, and finding the right sleep solution may require some trial and error.
#3 Dr. Karp's Methods to Put Your Baby to Sleep Quickly
Dr. Harvey Karp, also known as "The Baby Whisperer," has extremely helpful advice on how to put your baby to sleep using his five S's.
Swaddling
Technique: Snug wrapping with arms down or up
Benefit: Provides comfort and security similar to the womb experience
Side Stomach Position
Technique: Calming position, not for sleep
Benefit: Mimics the womb environment and promotes relaxation
Shushing or White Noise
Technique: Using soothing sounds
Benefit: Creates a familiar and calming environment for the baby
Swinging or Rhythmic Motion
Technique: Providing comforting movement
Benefit: Mimics the motion experienced in the womb, promoting better sleep
Sucking
Technique: Breastfeeding or pacifier for added calmness
Benefit: Sucking is gratifying for babies and helps promote relaxation
#4 Implementing the Squat Method
The Squat Method involves holding your baby close and squatting down gently while patting their back, resulting in the baby calming down and falling asleep.
The effectiveness of this method stems from the combination of physical closeness and soothing touch. The gentle squatting motion provides a rocking sensation, while back patting stimulates the baby's parasympathetic nervous system, leading to relaxation.
You can even make it a regular exercise for you!
RELATED ARTICLE: Why You Shouldnt Rush with Potty Training
#5 The Quick Walk-Sit Soothing Technique
A recent study suggests a Japanese method WALK-SIT helps babies sleep better. The method involves a walk-sit routine, where parents carry a crying baby for five minutes and then sit with them for eight minutes.
This routine can reduce the baby's heart rate and promote sleep. The study used baby EKG machines and video cameras to compare changes in heart rate and behavior.
It is important to note that this routine only works if the baby is crying and not already calm.
The transport response, the sensation of being carried by a caregiver, has a unique effect on infants. Walking continuously for five minutes stabilizes the infant's sleep, and waiting for the shallow sleep phase to pass before placing the baby down increases the success rate.
This method can be a safe and useful option for parents to try, as it helps stabilize the baby's sleep and promotes better sleep quality.
#6 Successful Breastfeeding Sleep Method
In the pursuit of a successful breastfeeding sleep method, you can perform the action of calming your baby by the means of gently feeding them while maintaining a soothing voice and posture.
The act of breastfeeding provides the effect of comfort and satisfaction for your baby, due to the cause of breast milk containing tryptophan which promotes relaxation through serotonin production.
I must say that this method worked best for me. I have more ideas on the subject on my Witching Hour Baby Article.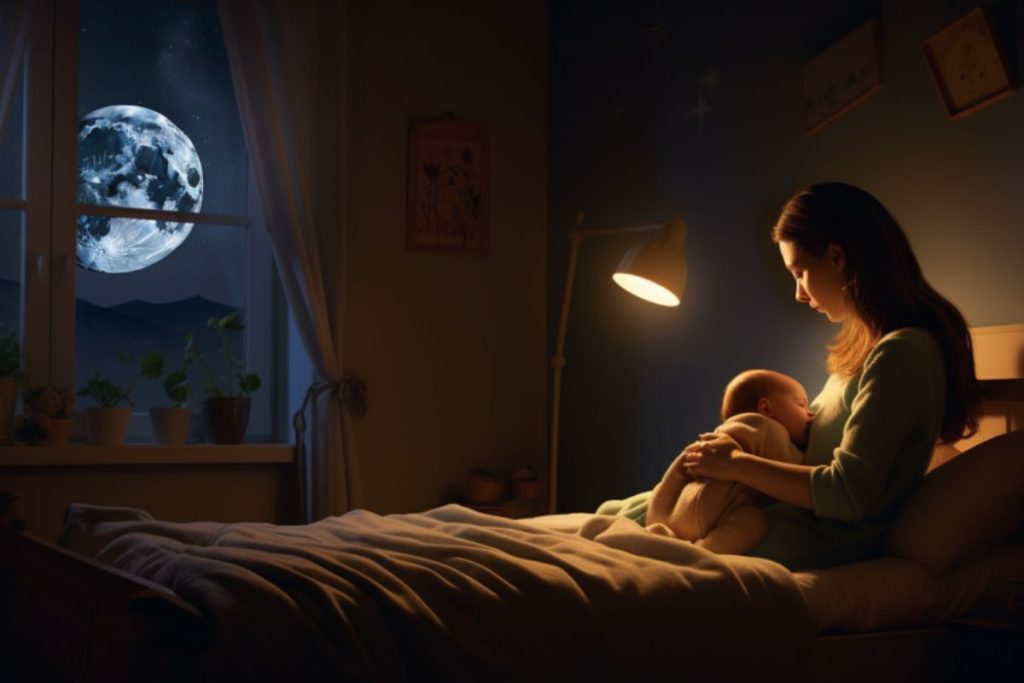 The Power of Cuddling
Cuddling with your baby creates a sense of comfort and security, which enhances their ability to fall asleep quickly. When a baby is crying, drowsy, cranky, or fussy, cuddling soothes and calms them.
Your heartbeat's sound, a gentle bouncing motion, and the warmth of your embrace contribute to a peaceful sleep environment. Cuddling provides an opportunity for the baby to engage in sucking, which can be through breastfeeding, bottle-feeding, or using a pacifier.
If a baby enjoys motion, consider cuddling while swaying or rocking them in a baby swing. Co-sleeping, where the baby sleeps close to you, is another option that promotes a sense of security and closeness.
Understanding Baby's Sleep Cycles
Assisting your baby to establish healthy sleep patterns is a crucial result of understanding your baby's sleep cycles. Your baby possesses both daytime and nighttime sleep cycles, requiring your vigilance to their tiredness cues.
Your baby's signs of needing rest include staring off into space or rubbing their eyes.
Stress responses in your baby might result from waiting too long to put them to sleep, making it essential to respond to their tiredness.
A consistent bedtime routine, featuring soothing and comforting activities like a lullaby or gentle touch, contributes to helping your baby relax and fall asleep easier. A healthy sleep routine for optimal rest and development can be established in your baby by understanding their sleep cycles and responding to their cues.
Reasons for Baby's Sleep Troubles
Baby's sleep troubles can be attributed to physiological and environmental influences on their sleep patterns. Understanding these factors enhances the ability to address sleeping issues effectively. Here are some common factors affecting a baby's ability to fall asleep:
Factors Affecting Baby's Sleep
Physiological Factors
Growth and development, particularly changes in the digestive system, shape sleep patterns.
Environmental Factors
Quality of sleep is influenced by the environment, such as exposure to noise, light, and temperature variations.
External Stimuli
Alertness before sleep is triggered by stimuli such as intense interactions and the use of electronics.
Feeding Practices
Proper feeding avoids sleep disruption due to overfeeding or hunger.
Diaper Comfort
Regular diaper changes prevent discomfort and sleep difficulties.
Implementing strategies to address these factors results in an improved sleep environment for the baby. Strategies can include playing soothing music, using a noise machine, installing blackout curtains, and maintaining a consistent bedtime routine with warm milk, bath time, pajamas, and story time. Including calming activities like singing, humming, or going for a stroller ride can further facilitate a quicker transition to sleep for the baby.
Read Books to Your Babies and Toddlers
Cultivating independent sleep habits in your baby includes the valuable addition of incorporating books into their bedtime routine. The activity of reading books provides a soothing and calming effect before sleep, and it also stimulates your baby's imagination and language development. Here are four positive impacts of incorporating books into your baby's sleep routine:
The act of reading books in warm pajamas creates a cozy and comforting atmosphere for your newborn.
The combination of a sleep sack and a good story during snuggle time helps your baby feel secure and relaxed.
The use of a cool room and a captivating book assists your baby in unwinding and preparing for sleep.
The experience of taking a gentle stroller walk while reading a book provides a peaceful and tranquil environment for both you and your baby.
Experts such as Dr. William Sears, Dr. Richard Ferber, and the American Academy of Pediatrics (AAP) agree that incorporating books into your baby's bedtime routine contributes to better sleep habits and overall well-being.
Frequently Asked Questions
Can I Use the Tissue Trick on My Newborn Baby?
The tissue trick is a technique you can certainly use on your newborn baby. The action of gently stroking their cheek with a tissue triggers their rooting reflex. This method potentially provides comfort and relaxation to your baby.
How Long Should I Play White Noise for My Baby?
"Until your baby falls asleep, you should play white noise" forms the first semantic triple. "The soothing background noise assists your baby in relaxing and drifting off to sleep" is the second triple. "Experimenting with different sounds and volumes allows you to discover the best options for your baby" forms the final semantic triple.
What Are Some Common Signs of Overstimulation in Babies?
Babies, when overstimulated, display common signs such as fussiness, crying, and difficulty in settling down. Another symptom in overstimulated babies is the avoidance of eye contact and an increase in movement. There is also a tendency for these babies to startle easily and experience difficulty in falling asleep. Recognizing these cues enables the prevention of overstimulation in babies.
Conclusion
Putting a baby to sleep in 40 seconds involves understanding their sleep cycles and using techniques like the tissue trick, white noise machines, cuddling, and breastfeeding.
Creating a calming sleep environment helps your baby to fall asleep quickly and promotes healthy sleep habits.
Developing independent sleep habits ensures both you and your little one enjoy restful nights.
The axiom, 'A well-rested baby is a happy baby' emphasizes the importance of implementing these strategies.
Starting these strategies today will lead to peaceful nights of sleep for your family.