One way to help kids develop a positive self-image is by using positive kids affirmation cards and coloring pages. I made some for you! And they are FREE 🙂
I understand the importance of building confidence in our children. We want them to grow up feeling secure, self-assured, and capable of achieving their dreams.
I know your kids are gonna love these!
** DISCLAIMER: This post may contain affiliate links. This means I may earn a small commission if you buy something via my links. All thoughts and opinions are my own. I always support only products that I truly love and use.
What are Kids Affirmation Cards?
They are a powerful tool that can help children develop a positive mindset and boost their self-confidence.
Those small cards that contain positive thoughts or statements are designed to help children focus on positive thoughts and feelings. They are usually short, simple, and easy to understand. It's a reminder to children that they are capable, strong, and worthy.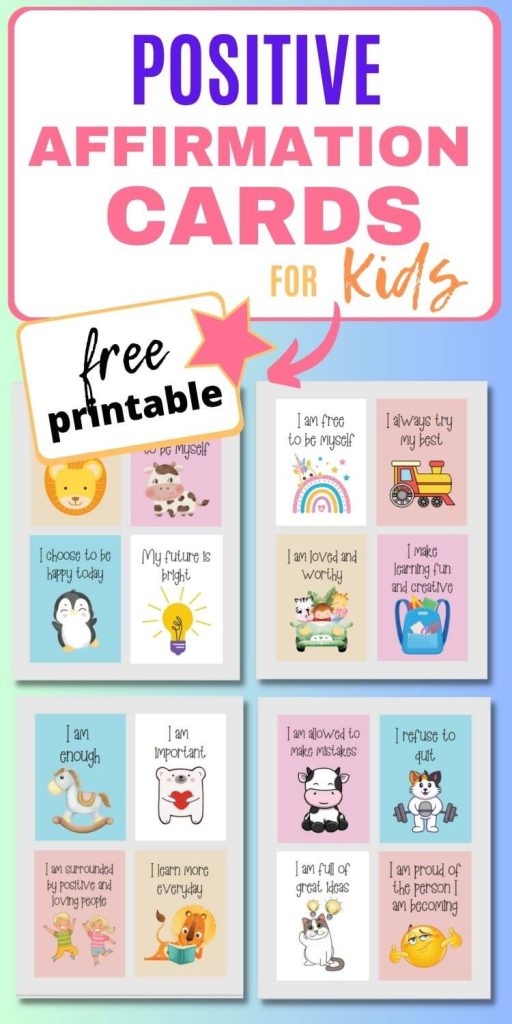 RELATED ARTICLE: Non-Toy Gift Ideas for First Birthday
Affirmation Cards Printable & Free
To make it easy for parents to incorporate affirmations into their child's daily routine, I have created a set of FREE printable affirmation cards for kids, and coloring pages. These cards feature positive statements such as "I am brave," "I am loved," and "I am capable."
They are designed to be printed out and cut into individual cards that can be placed in a child's backpack, lunchbox, or on their nightstand.
#1 Free Printable Affirmation Cards PDF
In this file, you will find 40 cards you can cut out and use in your daily routine.
For best performance print it on cardboard in color
Download Positive Thoughts and Affirmations
Your kids will love these colorful cards!
#2 Free Kids Affirmation Coloring Book
These coloring pages can be soothing for kids and adults. We all benefit from it!
Enjoy 24 free pages, you deserve it! You are the best parent ever!
Download Coloring Pages
This self-affirmation coloring book is quite simple and loved by kids. Let them grow and learn to appreciate themselves.
RELATED ARTICLE: Free Kawaii Coloring Pages
Let's Look at The Science Behind Affirmations
Benefits of Affirmations for Kids
Promotes self-confidence and self-esteem – Daily affirmation can remind kids of their strengths and positive qualities to feel more confident and capable. Read more
Reduces negative self-talk – Affirmations can help reduce negative self-talk and promote positive self-talk, which can result to a more positive mindset. Read more
Enhances well-being – Kids feel happier and more positive, which can lead to better well-being. Read more
Increases optimism and hope – We know how optimism is important sometimes for our kids to achieve a desired feeling or outcome. Read more
Encourages positive behavior – They teach and motivate kids to engage in positive behavior and break bad habits.
Promotes a growth mindset – Affirmations can help kids develop a growth mindset by promoting the belief that they can improve and learn from their mistakes.
Increases resilience – Resilience can help kids deal with a variety of problems and bounce back from trauma. Read more
Reduces stress and anxiety – Positive statements promote positive thinking, and we know how important that is for stress and anxiety. There is a study that confirms affirmations reduce cortisol levels, which is associated with stress.
Improve academic performance – Affirmations can help kids to reduce test anxiety. Read more
In conclusion, kids affirmation cards are a powerful tool that can help children develop a positive mindset and boost their self-confidence. By using affirmation cards regularly, children can learn to focus on positive thoughts and feelings, reduce stress and anxiety, and develop a more optimistic life perspective.
How Do Affirmation Cards Affect Kids Brains?
According to a study published in PNAS, self-affirmation alters the brain's response to health messages and subsequent behavior change. While there doesn't seem to be a direct study on how they affect kids' brains, it's possible they could have a similar effect on the brain.
How to Use Affirmation Cards with Kids
Choose cards that are age-appropriate and relevant to your child's interests.
Encourage your child to read their positive affirmation in the morning. This can help them start the day feeling positive and optimistic.
Another great way to use them is by placing them in your child's lunchbox. This can be a nice surprise for your child and can help them feel loved and supported throughout the day. I personally use this method, and my daughter loves it!
Encourage your child to read these positive statements out loud and repeat it several times.
Help him/her understand the meaning of declarations and how it applies to their life.
Make them part of a daily routine.
Display these lovely claims in a visible place, such as on a bulletin board or mirror.
Encourage your child to create their own self-affirmations.
RELATED ARTICLE: Benefits of Coloring Books
In The End…
That's it, Moms and Dads! Hope your kids will enjoy this powerful activity and a new daily routine. So, if you are wondering: Should I do affirmations with my child? The answer is – YES, You should.
Remember, You are strong, and doing your best, and all of it will pay off someday! Your kids are going to grow out to be wonderful people.
PS: Did you notice how I sneaked some affirmations for you – parents as you read along? Just to boost your confidence too. You are awesome!