If your child loves spinning around in circles, you might be concerned about the safety of this activity. But did you know that there are actually benefits to allowing your child to spin? My daughters used to spin all the time, so I did a bit of research.
It turns out we should let kids follow their instincts, and let them do their thing!
Why Do Toddlers Spin in Circles?
Alright, so you know when you were a kid and you used to spin around in circles until the world blurred and you collapsed in a dizzy heap? That's child spinning, dear moms! And it's pretty common among kids, especially the younger ones.
Some kids do it for the sheer thrill of it all, others just want to see how dizzy they can get. But mostly, child spinning is a way for kids to have fun and blow off some energy. And it's not just limited to outside play either – you'll see kids spinning around in their living room or backyard too! Just make sure they don't do it after eating, or they might end up regretting it.
Spinning upregulates the nervous system so for children who like to it will be organising for their body, helping them function.

Beacon Family Services (source)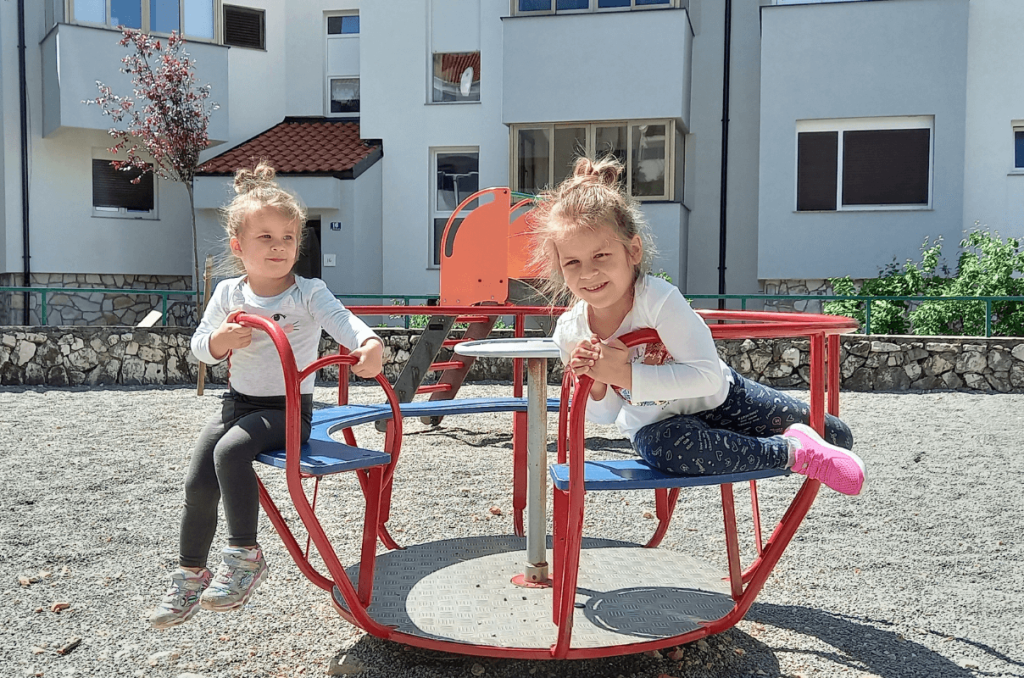 RELATED ARTICLE: Why should toddlers wear soft-soled shoes
Benefits of Child Spinning Activities
Improved coordination and balance – Spinning helps toddlers develop their proprioceptive (awareness of their body position) and vestibular (balance and spatial orientation) senses, which are essential for overall coordination.
Encourages sensory integration – It provides a strong sensory input to the brain, which can help toddlers process and integrate information from their environment more efficiently.
Boosts mood and energy – Releases endorphins, chemicals in the brain that can stimulate feelings of happiness and excitement. How cool is that!?
Enhances cognitive development – Improves cognitive skills such as attention, memory, control and focus, and problem-solving ability.
It gets their heart rate up and gets them moving, which is always a good thing.
Spinning can also be incredibly therapeutic for kids who might be dealing with emotional issues. It's been known to reduce anxiety, and depression, and even help with sensory processing disorders.
And let's not forget the pure joy and happiness it brings. Watching your little ones giggle and laugh as they twirl around in circles is enough to put a smile on anyone's face.
Here is a quote from The Genious of Play:
Spinning is good, and it is one of the elements that positively enhance the vestibular system. Spinning allows children to experience shifts in their weight, develop depth perception, balance, and the cause and effects of motion. Spinning is the most potent form of sensory input that the brain takes in and processes.

by Dr. Deborah Stevens-Smith & Jami Murdock
So the next time your toddler enjoys this activity, let him go for it. Not only kids will have a blast, but they'll also be reaping some pretty awesome benefits.
However, it is essential to keep in mind that too much spinning can lead to dizziness or motion sickness. Parents should supervise and limit the amount of time their toddler spends spinning in circles.
RELATED ARTICLE: My Toddler Lost His Appetite, and Won't Eat
What are the Cons of Kid Spinning Too Much?
Even though spinning is harmless fun for toddlers, excessively overdoing it can actually lead to some pretty nasty side effects.
Anyone who's been on a carnival ride knows that spinning can make you feel dizzy and nauseous, and the same goes for kids.
They might also stumble or fall after you put them down, which could lead to injuries. So if you're going to engage in some child spinning, be sure to do it in a safe and controlled environment, and watch out for any signs of discomfort or injury.
Here is a fun video that explains to kids – Why do they feel dizzy when they stop spinning? Show it to your kids!
RELATED ARTICLE: Why Do Toddlers Love Stickers So Much
How to Manage Healthy Toddler Spinning Behavior
As always, safety is key! Be sure to create a safe spinning space by removing any tripping hazards and making sure they have plenty of room to spin.
And don't forget to set limits – too much spinning can lead to dizziness and discomfort. So, keep an eye on your little ones and help them find the perfect balance of spinning fun and safety.
Fun and Creative Child Spinning Games
You can try setting up a spin race, where kids compete to spin around in circles and make it to the finish line first.
Or, you can have them play "spin freeze," where they dance and move around while the music plays, but have to freeze in place when it stops. These games are sure to keep your kids entertained and physically active!
Spinning Dance – Play some fun music and encourage them to dance or move their body in silly ways while spinning.
Spin and Catch – Let your toddler spin and see if they can catch a softball or plush toy when you throw it to them.
Spin and Follow – After a bit of spinning around see if your toddler can follow you as you move in different directions or make silly poses.
Spin and Storytime – Read a story to your toddler while they are spinning. Then pause to ask questions or involve them in the storytelling.
Spin and Color – Spin your toddler around and then give them a piece of paper and some crayons to color with. See what kinds of pictures they come up with while still feeling the effects of the spinning.
Spin and Sing – While your toddler spins sing some fun songs with them. Make up your own silly lyrics or make animal noises as you go along.
Spin and Play Simon Says – Spin your toddler around and play a game of Simon Says, where they have to follow your commands and do different actions based on what you say.
Spin and Play If You're Happy and You Know It – Spin your toddler around and then play the classic toddler song "If You're Happy and You Know It" with them. Encouraging them to clap, stomp, and shout during the different verses.
** DISCLAIMER: This post may contain affiliate links. This means I may earn a small commission if you buy something via my links. All thoughts and opinions are my own. I always support only products that I truly love and use.
RELATED ARTICLE: Nontoy Gift Ideas for 1-Year-Olds
Tools for Safe Child Spinning in Circles
There are various pieces of equipment that can be used for child spinning around in circles including swings and spinning chairs. Here are some examples all kids love!
1. Swing
A swing is a classic piece of equipment that can be used for spinning. It can be a standard playground swing set that is modified for spinning or specially designed for spinning. Some swing sets may have a disc or platform instead of a traditional seat. It allows kids to stand or sit on the disc and spin around.
We love to do it with a regular swing on our playground. My daughters keep asking for MORE! Watch how we do it.
2. Spinning chair
A spinning chair is a small chair that is designed to spin around. It can be used for spinning games or just for fun. There are many different types of spinning chairs. From simple plastic chairs to more elaborate chairs that are shaped like animals or vehicles.
3. Merry-go-round
A merry-go-round is a roundabout that spins around in circles. It is often found in playgrounds and amusement parks. It can be operated with the help of other people or it can be self-operated.
4. Sit and spin
A sit-and-spin is a toy designed for small children. It is typically a disc with a handle that children can sit on and spin around. It is a great way to introduce children to the concept of spinning.
Overall, equipment that allows you to spin around in circles can be a fun and playful way to enjoy physical activity. It can help improve balance, coordination, and cognitive function. It is important to ensure that the equipment is safe and appropriate for the age and ability of the user.
Conclusion
Hope I covered all you need to know about a child spinning around in circles. It's obviously a fun and useful activity kids love. We should trust kids' instincts and sometimes allow them to do things we don't understand or are afraid can be dangerous.
Just let them spin!
Lastly, I want to share with you a pin I made for Halloween where my daughter spins dressed as a skeleton. And she loves it!