You're juggling a fussy toddler, a plate of untouched veggies, and your sanity. Don't panic, you're not alone in this mealtime battle! With the right healthy eating hacks for picky toddler eaters, you'll turn those peas from foe to friend.
This article will arm you with creative strategies to get your picky eater excited about balanced meals. Let's dive in and start transforming your toddler's mealtime into a fun, healthy adventure!
Key Takeaways
Picky eating behavior is a typical milestone rather than a challenging behavior and usually starts around two years of age.
Parents should provide a variety of healthy foods in appropriate servings while allowing children to decide what and how much to eat.
Mealtime hacks for picky eaters include pairing new foods with familiar ones, serving at least one liked food item, starting with small portions when introducing new foods, and using positive peer pressure by showing children others eating fruits and vegetables.
Tips for successful mealtimes include being persistent and patient when introducing new foods, scheduling regular mealtimes and snacks to ensure hunger, limiting liquid intake to prevent fullness, offering age-appropriate portion sizes, and keeping mealtimes short and positive.
Understanding Picky Eating in Toddlers
Understanding your toddler's picky eating habits can be key to overcoming mealtime hurdles. Toddlers are notorious for being fussy eaters, often displaying food neophobia, an aversion to new foods. This is part of their developmental journey, as they establish food preferences and independence.
Your mealtime strategies should accommodate these changes. Introducing new foods may be met with resistance due to texture aversions or food psychology. However, don't be discouraged. Persistence is crucial, and remember, you're not alone in this adventure. Many parents face similar challenges with their toddlers.
I know, I face it every day!
The key is to approach the situation with patience, creativity, and understanding. Take note of your toddler's food aversions and preferences, and gradually introduce new tastes and textures. Their palate will slowly expand, making for less stressful mealtimes.
RELATED ARTICLE: Pomegranate Seed Smoothie With Beet for Fussy Eaters
Mealtime Strategies for Picky Eaters
You'll find that creating a game plan with specific mealtime strategies can make a world of difference when dealing with your toddler's picky eating habits.
Meal Planning: Make a mealtime schedule and stick to it. Regular meal and snack times will help your toddler understand when to expect food.
Food Variety: Offer a variety of toddler-friendly foods. Introducing a range of healthy recipes can encourage independence and broaden their palate.
Cooking for Kids: Get your child involved in the kitchen. This not only makes cooking fun but also familiarizes them with different foods.
Food Presentation: How you present the food matters. A colorful, attractive plate can make even the pickiest eater curious to try.
These picky eater tips, when combined with patience and creativity, can transform mealtime routines into exciting culinary adventures.
Making Mealtime a Fun Experience
During meal times, you can make eating a fun experience for your picky toddler by turning it into a playful adventure.
Experiment with fun food shapes and food art to spark their interest.
Use toddler-friendly cookbooks to find toddler-approved recipes and involve your little one in cooking.
Create a positive mealtime environment by incorporating mealtime conversation starters and food-themed sensory bins.
Keep them engaged with food puzzles and food-tasting games.
There are helpful toddler mealtime apps available that can make this process easier.
Food Presentation Techniques for Fussy Eaters
Let's dive into some effective food presentation techniques that can help transform your fussy eater's mealtime experience.
Food art contests: Engage your child by turning meal prep into a fun game. Use healthy snacks, fruits, and vegetables to create vibrant food platters. Toddler food cutters can help you shape these into exciting designs.
Healthy lunchbox ideas: Pack an appealing, nutritious lunch with a variety of colors and shapes. Include a fun note or sticker to add an element of surprise.
Food-themed crafts: Encourage your toddler's creativity off the dining table. This can help cultivate a positive association with food.
Toddler-friendly restaurants: Expose your little one to different food presentation techniques in a fun, interactive setting. Happy eating!
RELATED ARTICLE: Healthy Orange Popsicles for Kids
Creating a Positive Eating Space for Toddlers
Almost every parent knows that creating a safe, comfortable, and enjoyable eating environment can make a significant difference in your toddler's overall dining experience.
Introducing healthy habits early on, like portion control and family mealtime rules, sets the stage for a well-rounded children's diet.
Incorporate food education into meal prepping by using toddler meal planning apps, providing excellent toddler nutrition resources.
Encourage your child to participate in toddler-friendly cooking competitions to spark their interest in food.
Make use of food exposure therapy techniques to familiarize them with new flavors and textures.
The aim is to build an environment that isn't only about eating but also about learning, discovering, and bonding over food.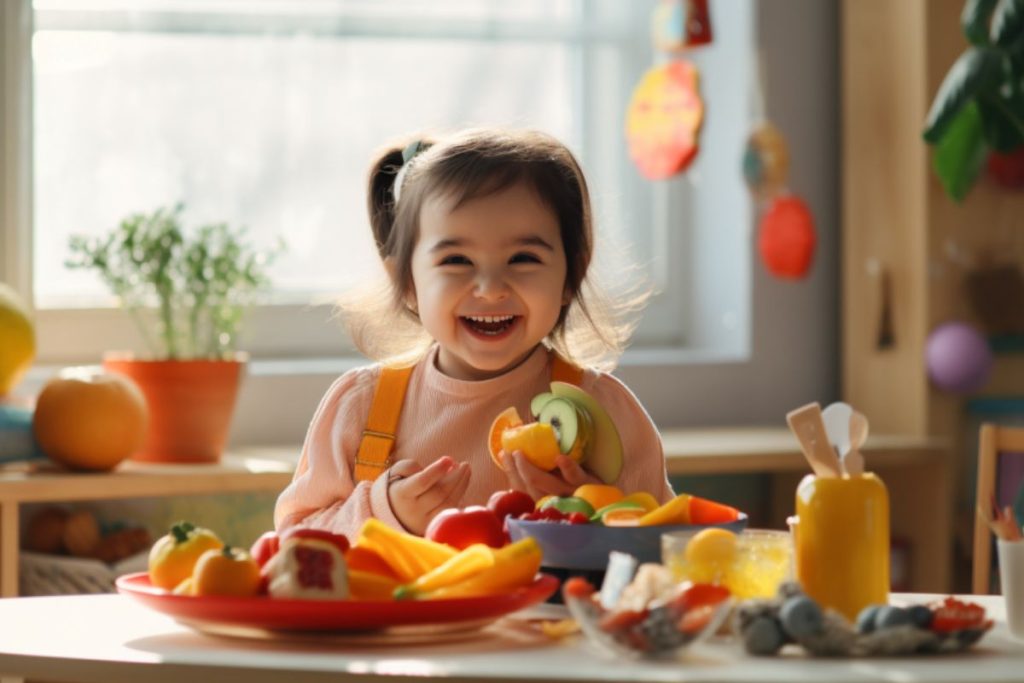 RELATED ARTICLE: Why Did My Toddler Lose His Appetite
Engaging Your Picky Eater During Mealtime
Engaging Your Picky Eater During Mealtime can be a challenging task for parents. However, with the help of a child behavior specialist and a nutritionist, strategies can be implemented to overcome this issue. Here are a few strategies:
One approach is to introduce a variety of food options during mealtime, encouraging the picky eater to explore different tastes and textures.
Another effective technique is to focus on the presentation of food, using food presentation techniques to make meals more visually appealing.
Involving the picky eater in cooking and meal preparation can increase their interest and willingness to try new foods.
Creating a pleasant and inviting atmosphere at the family dining table is also crucial to fostering child-parent interaction and establishing healthy eating habits.
You can see here how my kids prepare the Spinach smoothie video tutorial. They love the fact they make a meal on their own, so they enjoy its taste too.
Adding Variety and Creativity to Your Toddler's Meals
Adding variety and creativity to your toddler's meals isn't just fun, it's also a great way to introduce them to new flavors and textures. Try incorporating whole grains and protein into homemade baby food and vegetable smoothies for a balanced diet.
Rotate food groups, using everything from international cuisine to traditional family recipes. Make food experiments, like a DIY pizza or sandwich bar, part of your routine. Cooking classes can be a great way to engage your toddler, and picky eater support groups offer fantastic advice.
Don't forget about healthy drink options too. By adding this variety, you're not only making meals interesting but also ensuring your child gets a taste of different food groups.
Frequently Asked Questions
What Are Some Nutrient-Rich Alternatives for Toddlers Who Refuse to Eat Vegetables?"
You've got a veggie-hating toddler? No worries. Try nutrient-rich alternatives like pureeing veggies into sauces, blending them in smoothies, or mixing them in with their favorite foods. Persistence and creativity are key here.
How Can I Ensure My Picky Toddler Is Getting Enough Protein in Their Diet?"
You can ensure your picky toddler gets enough protein by incorporating foods they already love. Try adding peanut butter to fruit slices, cheese to crackers, or blending yogurt into their favorite fruit smoothie.
Is It Normal for My Toddler to Only Want to Eat the Same Food Every Day?"
Yes, it's normal for toddlers to favor certain foods. However, you shouldn't stop introducing new foods. Mix their favorites with new items. They'll gradually accept variety, boosting their nutritional intake. Patience is key.
Are There Any Specific Vitamins or Minerals That Picky Eaters Often Lack?"
Yes, picky eaters often lack iron, zinc and various vitamins, like A, C, and D. It's crucial you incorporate foods rich in these nutrients, or consider a multivitamin if your pediatrician recommends it.
How Can I Manage if My Toddler Is Refusing to Eat the Healthy Meals Provided at Daycare/School?"
You're like a chef crafting a master recipe. Mix familiar foods with new ones from daycare. They'll start accepting them over time. It's patience and creativity, just like perfecting a gourmet dish. You've got this!
Conclusion
Ready to embark on this exciting food adventure with your toddler? With creativity, patience, and these clever strategies, you'll soon transform mealtime into a fun, nutritious journey.
Your picky eater will be exploring new tastes in no time. And who knows? Your little one might just become the next mini MasterChef.
The road to a diverse diet may be a tricky one, but remember, it's all about making food fun.
Here's to healthy, happy eating!
---
Want to save this article for later?
Pin it!