Are you aware of the potential negative effects of bottle feeding too long? While it may seem convenient, there are important factors to consider.
I did thorough research on the potential drawbacks of bottle feeding for an extended period, shedding light on its impact on dental health, overfeeding risks, and potential development of obesity and self-feeding challenges.
I will also discuss how lengthy bottle feeding can affect speech and language development, nutritional intake, and digestive health, and increase the chances of allergic reactions and infections.
Stay informed moms and dads, about the well-being of your loved ones!
10 Disadvantages to Bottle Feeding
#1 Negative Impact on Dental Health
Bottle feeding for an extended period can have a detrimental effect on your toddlers' dental health. It is important to comprehend the significance of weaning your child off the bottle at 12 months of age to prevent tooth decay and cavities.
Prolonged bottle feeding, particularly with sugary beverages such as juice or formula, can increase the risk of developing dental problems.
The constant exposure of teeth to these liquids creates an ideal environment for bacteria growth, ultimately leading to tooth decay.
If babies fall asleep with a bottle in their mouth, the liquid accumulates around their teeth, further enhancing the likelihood of cavities.
Gradually transition your child from bottle feeding to cup drinking as recommended by pediatricians in order to maintain optimal dental health and prevent baby bottle tooth decay.
RELATED ARTICLE –> What kind of shoes to buy for baby's first steps
#2 Increased Risk of Overfeeding
Bottle feeding for long periods can increase the risk of overfeeding. You must be aware of this potential issue, particularly if you aim to provide the best care for your baby.
1. Big Bottles
When babies get older, they start to drink more milk or formula. If they continue to use baby bottles for a long time, they may start using bigger bottles.
These bigger bottles can hold more milk, which means they can drink more than what their tummy actually needs. This can lead to overfeeding.
2. No Self-regulation
As babies grow, they learn to eat when they are hungry and stop eating when they are full. But if they are always bottle-fed, they may not have a chance to develop this self-regulation.
They might keep drinking from the bottle even if they are not hungry anymore, which can cause them to consume more milk than necessary and lead to overfeeding.
3. Missing Solid Foods
With time, babies should start eating solid foods along with drinking milk or formula. Solid foods provide them with essential nutrients and help them feel full.
If they continue to rely solely on bottle feeding for a long time, they might miss out on important solid foods. This can make them feel less satisfied and lead to overfeeding from the bottle.
To prevent these issues, it is recommended to start weaning babies from bottles around 12 months or older.
#3 Potential for Obesity Development
Prolonged bottle use can contribute to the potential development of obesity in infants and toddlers. When babies rely on bottles for an extended period, they may consume additional calories that can lead to unhealthy weight gain.
Here are 3 crucial points to consider:
Portion control: Using a bottle beyond the recommended age can make it challenging for parents to monitor their child's food intake. This lack of portion control may result in overfeeding, leading to excess calorie consumption.
Lack of self-regulation: Extended bottle use can hinder a child's ability to learn self-regulation skills. When children have constant access to a bottle, they may not develop the capacity to recognize and respond appropriately to their body's hunger and fullness cues.
Unbalanced nutrition: Relying solely on bottles for a prolonged period means missing out on the opportunity to introduce a diverse diet with various textures and flavors. This limited exposure could potentially lead to nutrient deficiencies or imbalances.
#4 Impaired Development of Self-Feeding Skills
Extended use of a bottle can hinder your child's ability to develop self-feeding skills. Continuing to bottle feed for an extended period of time can impair their development in this crucial milestone.
Self-feeding is not only about getting the necessary nourishment, but it also promotes independence and builds confidence.
Over-reliance on the bottle can make it challenging for your child to transition to solid foods and effectively use utensils.
They may experience difficulties with hand-eye coordination, fine motor skills, and even oral motor development.
Encouraging self-feeding from an early age can foster healthy eating habits and allow your child to explore various textures and flavors.
Gradually introduce a variety of age-appropriate foods and provide opportunities for them to practice self-feeding skills.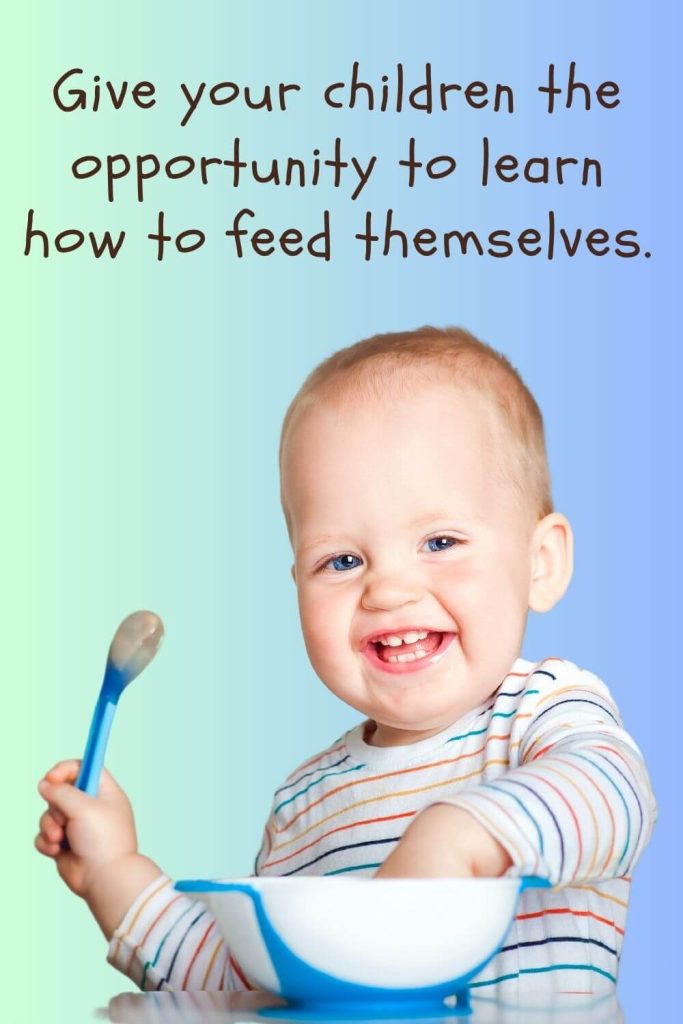 RELATED ARTICLE –> Dont Start Potty Training Too Soon
#5 Delayed Speech and Language Development
Delayed speech and language development can occur in toddlers who rely on bottle feeding and other sucking behaviors like pacifiers for an extended period.
Here are some reasons why it happens:
When toddlers are bottle-fed for a long time, they might not have as much interaction with others during mealtime.
This reduces opportunities for them to hear and learn new words, sentences, and sounds, which are important for speech development.
Drinking from a bottle requires less effort from a child's mouth and tongue compared to using a cup or eating solid foods.
This means they might not practice important oral motor skills needed for speech production, such as tongue movements and lip coordination.
Babbling is an important step in language development where toddlers experiment with different sounds and practice making speech-like noises.
If a child is bottle-fed for too long, they might have less motivation to babble because they don't need to use their mouth and tongue as much.
Limited Exposure to Different Tastes and Textures
When toddlers transition from bottle feeding to solid foods, they are exposed to a variety of tastes and textures. This helps them develop oral motor skills and stimulates their senses, which are crucial for speech and language development.
If a child continues to rely on bottle feeding, they miss out on this important sensory experience.
As children grow, they naturally become more independent in feeding themselves. Using a bottle for an extended period might delay this independence and hinder their motivation to communicate verbally.
It's important to note that delayed speech and language development can have various causes, and bottle feeding alone may not be the sole reason. If you have concerns about your child's speech and language development, it's best to consult with a healthcare professional or speech-language pathologist.
#6 Increased Risk of Ear Infections
Prolonged bottle feeding can lead to ear infections. When lying down, milk can easily flow into the Eustachian tubes. This creates an optimal breeding ground for bacteria, which can lead to infections in the middle ear.
Furthermore, prolonged bottle feeding may result in the accumulation of fluid in the middle ear, further elevating the probability of developing ear infections.
To minimize the risk, try limiting the duration of bottle feeding and encourage your child to sit upright during feedings.
I can remember my brother used to have ear infections quite often. Now I know it was probably due to his prolonged bottle feeding.
RELATED ARTICLE –> How to Use and Reuse a Boppy Pillow
#7 Impact on Nutritional Intake and Digestive Health
Feeding your child from a bottle for extended periods can have a significant impact on their nutritional intake and digestive health. Here are some reasons why you should wean your baby from the bottle to a cup:
Better Nutritional Intake:

When little kids drink milk or other liquids from a bottle once they are bigger, it can affect the kinds of food they eat.
They might not want to eat solid foods like fruits, vegetables, and grains because they are used to getting all their nutrition from the bottle. This can cause them to miss out on important vitamins and minerals that their bodies need to grow and stay healthy.
There is a study that found that prolonged bottle feeding can cause iron deficiency.

Healthy Digestion:

Our bodies are designed to chew and swallow food, not just drink liquids. So when toddlers keep using a bottle instead of learning to eat solid foods, their digestive systems can get a bit confused.
This can lead to problems like constipation, where it becomes difficult to poop, or even tummy aches.
To avoid these issues, it's important for toddlers to start eating solid foods as they grow. They should be introduced to different textures and tastes, like mashed fruits and vegetables, soft cereals, and small bites of cooked meats.
It's also a good idea to slowly transition them from bottles to sippy cups or regular cups, which can help them learn to drink without relying on the bottle.
#8 Higher Chance of Allergic Reactions
If you choose to continue bottle feeding your baby for an extended period, there is a higher probability of them developing respiratory and allergic reactions. Allergic reactions occur when the immune system reacts excessively to certain substances, resulting in symptoms such as rashes, hives, itching, and even difficulty breathing.
Breast milk contains antibodies that aid in protecting against allergies, while formula milk may increase the risk of allergies developing.
But, if you solely rely on bottle feeding for a prolonged duration, it may impact their ability to develop intolerance to potential allergens.
Bottle before bed may lead to asthma: There is a link between bottle-feeding in the crib or bed before sleep and wheezing in children under five years old.
To minimize the likelihood of allergic reactions, it is recommended to introduce solid foods around six months of age while continuing to breastfeed or using hypoallergenic formulas if necessary.
It is advisable to consult with your healthcare provider regarding any concerns about potential allergies and the best ways to address them for the well-being of your little one.
#9 Potential for Oral Thrush, and Other Infections
The potential for oral thrush and other infections increases when you continue bottle feeding for too long. It is crucial to be aware of the risks associated with prolonged bottle feeding, as it can have detrimental effects on your baby's health.
Here are 2 possible infections:
Oral Thrush: Bottle feeding creates an environment in the mouth that is warm and moist, which can encourage the growth of yeast and lead to oral thrush. This fungal infection can cause discomfort and difficulties with eating or swallowing.

Try to decrease sucking time to 20 minutes per feeding

Increased Risk of Infections: When bottle feeding is prolonged beyond the recommended age, it can weaken your baby's immune system, making them more susceptible to various infections such as ear infections, respiratory infections, and gastrointestinal infections.
#10 Challenges With Transitioning to Solid Foods
Transitioning to solid foods can pose a challenge for your baby as it adapts to unfamiliar textures and flavors. If your little one has been bottle-fed for an extended period, it can complicate the process even further.
Babies who are accustomed to the consistent texture and taste of milk may show resistance to trying new foods. This can lead to feelings of frustration and concern for you as a mom.
It's crucial to bear in mind that each baby is unique, and some may require more time than others to successfully make the transition.
Exercise patience with your little one and offer a variety of nutritious options in small portions.
Gradually introduce new tastes and textures, allowing your baby to explore at their own pace.
Over time, with patience, gentle encouragement, and support, you will help your baby overcome these hurdles and establish a positive relationship with solid foods.
How Long is Too Long for Bottle Feeding?
It is recommended by the American Academy of Pediatrics to start the weaning process before the baby reaches 12 months of age. Weaning from the bottle is an important milestone in a baby's development and we must take it seriously.
Signs of Readiness for Weaning:
Interest in solid foods: Babies showing curiosity or eagerness towards solid foods may be ready for weaning.
Developmental milestones: Babies should be able to sit up with support, hold their heads steady, chew, and swallow food.
Increased independence: Demonstrating an interest in self-feeding and a reduced interest in bottle feeding are signs of readiness for weaning.
Tips for Weaning Baby off The Bottle:
Introduce a cup or sippy cup: Start offering a cup or sippy cup alongside bottle feeding to familiarize the baby with the new drinking method.
Gradual replacement: Replace bottle feedings with cups gradually throughout the day.
Offer water between meals: Encourage water intake by offering it in a cup or sippy cup between meals.
Encourage self-feeding: Allow the baby to hold and drink from the cup or sippy cup independently, promoting self-feeding skills.
Patience and understanding: Be patient with the weaning process, understanding that it may take time for the baby to adjust.
My Thoughts on the Effects of Bottle Feeding Too Long…
Now that you are aware of the potential negative effects of bottle feeding too long, I hope you will make some extra effort to wean your baby off the bottle.
Offering a cup to drink and presenting nutrients from solid foods will bring your baby so many benefits!
I must admit that my kids never used a bottle to feed. But I have so many friends who struggled when it was time to wean their kids.
They asked me to do thorough research on the subject, so I did. And I find it so interesting!
Hope these insights were helpful to you too Mommy. Just by reading this, you prove to be the best mom in the world.
Good luck!